Bears quarterback Jimmy Clausen was diagnosed with a concussion Sunday evening after experiencing delayed symptoms. He is currently being evaluated based on the NFL's concussion protocol and has been ruled out of Sunday's season finale in Minnesota.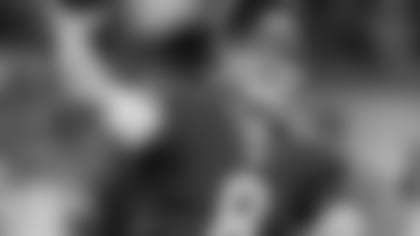 Jimmy Clausen's season is over after making one start Sunday against the Detroit Lions.
One week after being benched in favor of Clausen, Jay Cutler will start against the Vikings with rookie David Fales serving as the No. 2 quarterback. Asked why he tabbed Cutler and not Fales, coach Marc Trestman said: "Jay gives us the best chance this week."

Clausen sustained the injury on a vicious helmet-to-helmet blow by defensive end Ezekiel Ansah as the quarterback slid to the ground after a two-yard scramble. The hit drew a 15-yard unnecessary roughness penalty on the Bears' final drive of the game.

After the hit, Clausen was monitored by the team's medical staff and the NFL's ATC spotter. He exhibited no signs of a concussion immediately after the hit or during the final four plays of the drive. At the conclusion of the series he was further checked on the sideline and again exhibited no signs or symptoms.

After the game, Clausen passed all testing by team physicians and reported no concussion symptoms. Prior to leaving the stadium he was told, as per protocol, to contact team athletic trainers if he had any problems later in the day.

Clausen experienced delayed symptoms later Sunday evening and contacted trainers. He was taken to a hospital where he was further examined by a team physician and at that time diagnosed with a concussion. Upon diagnosis, he began the concussion protocol.

Making his first start in four years, Clausen completed 23 of 39 passes for 181 yards with two touchdowns, one interception and a 77.0 passer rating.

With Clausen sidelined, the Bears will turn back to Cutler, who started the first 14 games this season, completing 66.1 percent of his passes for 3,640 yards with 28 touchdowns, 18 interceptions and an 89.5 passer rating.

Asked about Cutler's reaction when informed he was going to start against the Vikings, Trestman said: "Jay said, 'I'll be ready to go.' He empathizes with what Jimmy has gone through [since] last night and he's ready to go. He'll be in [Monday] afternoon to get started."

Trestman doesn't think that benching Cutler put a strain on their relationship.

"I said very specifically that I believe that Jay can work his way out of this," Trestman said. "I've enjoyed coaching him and working with him. We had dialogue last week and we worked together last week. It was a tough week on him. I empathize with him on that. But we're moving forward, both with the idea that we've worked together for a long time and that hasn't changed."

Cutler's 66.1 completion percentage and 89.5 passer rating this season are career highs. But he leads the NFL with 18 interceptions and 24 turnovers.

"It's been a very, very tough year for him in terms of playing at a consistent level," Trestman said. "But I've seen this before and I have faith that he's going to return.

"He'll go to work this week and put himself in the best position to help our football team win and take the things out of the game last week that he could have learned by standing and watching and observing the continuity of the game."