After being missing the last four games with a high ankle sprain, quarterback Jay Cutler will return to the starting lineup Sunday when the Bears visit the Cleveland Browns.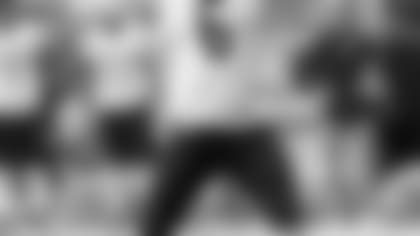 Jay Cutler will make his first start since November 10th against the Lions.
Cutler practiced on a limited basis last week, but the decision to anoint him the starter against the Browns wasn't made until after he proved he was ready to play during a workout Wednesday.
Coach Marc Trestman announced the move to the media Thursday after Cutler had practiced without restrictions with his teammates inside the Walter Payton Center.
"It's going to be Jay," Trestman said. "Our plan all along has been to allow him to get healthy. He was released by the doctors certainly before yesterday. I still wanted to have the opportunity and our staff to work him vigorously, have burst and move, do sudden footwork, climb the pocket and do those kinds of things, and he did it very effectively yesterday.
"He threw the ball very effectively yesterday and came up this morning and there were no residual issues, no swelling, there was nothing at all. So we practiced him today and he had a very efficient, good practice, a good start, and he will start on Sunday."
Cutler reclaims the job from Josh McCown, who has excelled in relief. Appearing in the last seven games with five starts, the 11-year veteran has completed 66.8 percent of his passes for 1,809 yards with 13 touchdowns, one interception and a 109.8 passer rating.
McCown was named NFC offensive player of the week for his performance in Monday night's 45-28 win over the Cowboys. He became the first Bears player to account for five touchdowns in a game since 1972, passing for a career-high four scores and running for another. He also threw for 348 yards and posted a personal-best 141.9 passer rating.
Asked if McCown's impressive play makes the decision to start Cutler a risky one, Trestman said: "I don't think that risk was part of this decision. This decision was made a long time ago; that when Jay was ready to play, he would play.
"That's how we planned to do it, so I don't look at it like that. I look at it [like] Jay's our quarterback, and when he was ready to play, he was going to play. That's the same words I used a month ago and there's no change today."
Cutler has started eight games this season, completing 63.0 percent of his passes for 1,908 yards with 13 touchdowns, eight interceptions and an 88.4 passer rating. He missed one contest earlier in the season with a torn groin muscle and hasn't started and finished a game since Oct. 10.
Although Cutler has been sidelined for a month, Bears coaches aren't worried about rust.
"I have no concerns," Trestman said. "I expect that he'll go out and play effectively and efficiently. I'm not going in there with any reservation that he'll do anything else."
"Jay has been right there next to Marc and he's been right next to Josh on the sideline during the game and communicating," said offensive coordinator Aaron Kromer. "It's like emotionally he's been in these games. Physically, he has not. But every snap he's lived emotionally and mentally. So we don't feel like there's going to be a lot of rust."
Cutler is eager to get back on the field and is confident that he'll be able to pick up where he left off, even against a Browns defense that ranks second in the NFL in yards per play.
"It's good to be back," Cutler said. "A month out is a long time. We're kind of knocking [the rust] off as we go in practice. We don't really have a lot of room for me to be rusty out there. We've got to hit it running. We've got to play well. Cleveland's a really good defense. They show a lot of different fronts. They get off the field on third down. So it's going to be a challenge."