Nearly every week, Jay Cutler picks up his phone and has a chat with Josh McCown. The former Bears teammates discuss their respective seasons, how they've played recently, common problems they've faced as quarterbacks and just about life in general. The most recent conversation between the two happened Sunday, after both players performed well in big victories by their respective teams.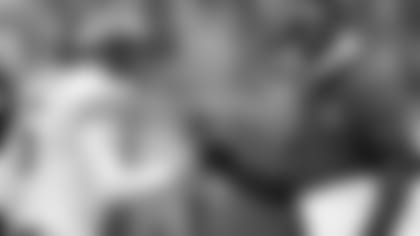 Jay Cutler and Marc Trestman
In just a few days, Cutler and McCown will be able to chat face-to-face, when the Bears host the Buccaneers at Soldier Field. The Chicago quarterback said he is looking forward to the meeting, but more importantly, he is looking forward to keeping the positive momentum going for the Bears. "It is what it is; it's a game for us," Cutler said Monday on WMVP-AM 1000's 'Waddle and Silvy Show' about facing the Buccaneers, who are quarterbacked by McCown and coached by former Chicago coach Lovie Smith. "We are going to be familiar with their defense, they've got some really good players on that side of the ball. It's going to be challenging.
"Josh is a great guy; he's still got a lot of relationships and connections here in Chicago. He cares for a lot of guys on this team." The Chicago connection of both McCown and Smith will loom large over the Week 12 matchup. McCown started five games or the Bears a year ago, while Smith coached the team from 2004-2012. Speaking Monday evening on WBBM-AM 780's 'Chicago Bears Coaches Show,' head coach Marc Trestman talked about the unique circumstances of the game and how he is doing his best on keeping his players focused. "We're playing the Tampa Bay Bucs, who are coached by Lovie Smith," Trestman said. "But at the end of the day, we got to focus on how we are going to do our assignments, our fundamentals and techniques, moving the football, stopping the football, protecting the kicker and returning kicks. That's where our focus will be."
The Bears will bring positive momentum into the contest against Tampa after a come-from-behind victory over Minnesota in Week 11. Chicago trailed by 10 points in the first half, but rallied to score 21 consecutive points and hold on for a 21-13 win. The victory snapped a three-game losing streak for the team.
Cutler threw for 330 yards and three touchdowns in the win, as the team's passing game had one of its top performances of the year. So too did the Bears defense, which clamped down and completely halted the Vikings for much of the game. Minnesota had only 10 first downs in the game and held the ball for just over 21 minutes, a sign the Bears were being efficient in getting off the field when needed. Chicago's offense was 10-of-17 on third down, while the Vikings converted only 2-of-11 attempts.
The coach was pleased by the performance and happy his team earned the victory, but still believes the Bears have room to improve. "It got us going in the right direction, but we have a lot of work to do," Trestman said. "It was a good win at home, we are excited about the fact that our fans got to see us win at home. We'd like to score more points, continue to play the kind of defense we did (on Sunday), play a little bit better special teams and just overall get better as a football team. (The Minnesota game) was a starting point, but guys know we have to get back to work and put another one together for this week."
With a 4-6 record, everyone at Halas Hall knows the level of play must continue to rise if the team is going to turn the season around. It started with the win over the Vikings, but that is far from enough. The Bears must start stringing together wins and improving their play, starting with Sunday's showdown with the Buccaneers, who are starting to play better themselves. Tampa Bay won at Washington last week, 27-7, behind 288 passing yards and two touchdowns from McCown.
When asked if the team was focused on the Buccaneers or the final six games as whole, Cutler gave a definitive response that the Bears are taking the schedule one game at a time, well aware of what they need to accomplish. "We are looking at Tampa Bay," Cutler said. "We know how many games are left, but we can't get involved in that. We are taking it one game at a time and we have Tampa this week. They're coming off a win and they played really well, so it's going to be a challenge."