Bears quarterback Jay Cutler isn't sure whether he'll be able to play Sunday against the Lions and probably won't know until he tests his groin this week in practice.
"I don't think we can say I'll be out there for the Detroit game," Cutler said Tuesday during his weekly radio show on WMVP-AM 1000. "We're trying everything we can to get out there. It feels good. [But] I haven't practiced. I haven't been in a live situation and done all the cuts and the drops and saw how it felt yet, so I can't tell you. I wish I could."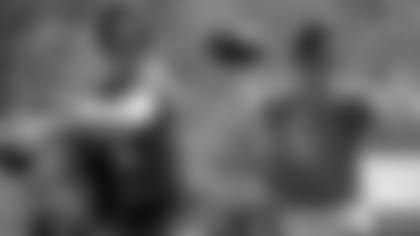 Josh McCown (left) has excelled while filling in for injured starting quarterback Jay Cutler.
Cutler suffered a torn groin muscle Oct. 20 in the second quarter of a loss to the Redskins. Backup Josh McCown excelled in relief in that game and then helped lead the Bears to a 27-20 win in Green Bay Monday night, throwing for 272 yards with two touchdowns and a 90.7 passer rating.
One day after Cutler was hurt, the Bears announced that he was expected to be sidelined for at least four weeks. But it appears that he possibly could return before that timeframe.
"I wish I could say, 'yeah, [I'll] be out there,'" Cutler said. "But I think the way that Josh is playing, we feel good about that and we don't want to get in a situation where I'm out there and I came back a week too soon and I'm set back another 4, 6 weeks, so we've just got to be smart with it."
Cutler is thrilled with the success that McCown has had. The 34-year-old passed for 204 yards with 1 TD and a 119.6 rating against the Redskins and then helped the Bears snap a six-game losing streak versus the Packers in the first Monday Night Football game in his 11-year NFL career.
"He prepares so hard," Cutler said. "If anyone deserves what has happened to him the last six or seven quarters, it's definitely him. He's put in a lot of time. He's given a lot back to the team and the guys, helped a lot of people in that building.
"So I couldn't be more proud of him or more happy for him personally to get this win. To go on a Monday night in front of everybody and to play the way he did speaks a lot about him as a player."
Cutler watched tape of Monday night's win with McCown on the flight home from Green Bay.
"He told me, 'get back when you can get back and if you need to take some reps, take some,'" Cutler said. "He said, 'I'll be ready, though, if you can't do it.'"
Roster moves: The Bears on Tuesday placed receiver Joe Anderson on injured reserve with abdominal and groin injuries and waived defensive tackle Zach Minter.
Anderson appeared in six games this season, recording one special teams tackle. He has played in nine contests in two years with the Bears, recording four special teams stops. Minter, an undrafted rookie from Montana State, played in two games this season.