After missing the entire preseason with a calf injury, middle linebacker D.J. Williams practiced without restrictions Wednesday and is expected to play in Sunday's season opener.
While Marc Trestman has not yet determined whether Williams or rookie Jon Bostic will start against the Bengals, the Bears coach said that both players could get reps at the position.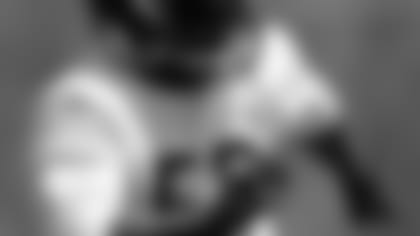 D.J. Williams is back on the practice field after recovering from a calf injury.
"They're both going to be ready to play middle linebacker," Trestman said. "There wouldn't be any reason why we wouldn't want to move them around in terms of in and out of the game.
"That would depend on D.J.'s conditioning and if we decide to start him. And if we need to use Jonathan on special teams, we'll have to mix D.J. in. We're just going to leave the options wide open, but it looks like at this point both will be able to play, and that's a good thing."
Williams signed with the Bears in March after spending his first nine NFL seasons with the Broncos. The 6-1, 242-pounder opened training camp as the starting middle linebacker, but sustained a calf injury July 31 in practice that sidelined him for a month.
Trestman was impressed with how Williams performed in Wednesday's practice but wants to see how the veteran responds the next few days before making a decision about playing time.
"We're going to let him work the week," Trestman said. "He looked good today at practice. He moved well. He looks like he's in decent condition. I don't know that he's in game condition to play 60 or 70 plays, or 50 or 60 plays. We're going to just let the week take its course.
"Both him and Jonathan are getting plenty of work. We're excited to have [Williams] back, certainly. If we have to make a decision, it's a good one. There's no reason why they can't both be up. Jonathan, if he's not taking as many snaps at the middle linebacker position, that'll give him more opportunities on special teams. We'll see how D.J. feels at the end of the week."
Williams was feeling fine after Wednesday's practice.
"I've tested it out, threw it in the dirt and ran and pushed off of it," Williams said of his calf. "Now it's in the back of my head. Now I'm just playing."
Williams' teammates are happy that he's back on the practice field.
"My sense is he brings a lot of versatility," said cornerback Tim Jennings. "He's a big guy. He can run. He can tackle. He's very vocal. I think that he's going to bring all those elements to what we're trying to do on defense."
Williams conceded that missing the entire preseason was "weird." But it's happened to him before and he's confident that he'll be ready to play Sunday against the Bengals.
"My last two seasons I missed the preseason, so I don't want to say I'm used to it, but I've been through this before," Williams said. "And being a veteran guy, you kind of know the right things to do to get yourself prepared for the game.
"It's never easy, but since I've been through it before I'm prepared. I know coming into the first game you're going to be a little gassed, a little winded. But the first game of the season everybody is kind of like that."
Williams has tried to make up for what he's missed on the field by doing extra work in the classroom.
"Mentally you just know you're going to have to do a lot of extra film study and a lot of walkthroughs and get a lot of reps that I missed," Williams said. "I didn't get any preseason practices or games, so you just have got to double up on the studying."
When Williams was injured, Bostic assumed the job and made an immediate impact, returning an interception 51 yards for a touchdown in the preseason opener. A week later, the second-round pick from Florida delivered a highlight-reel hit on Chargers receiver Mike Willie.
"Coming into the league out of college, it's a big difference, whether it's scheme-wise or the size and the speed of the game." Williams said. "[Bostic] adapted pretty well, in preseason made some big plays. If I wasn't ready today or for this week, I wouldn't worry about him if he had to be the starter."
Bostic no doubt will continue to challenge his veteran teammate for playing time all season.
"Every day is competition," Williams said. "But we're all friends and we all understand that's the nature of the game because the day you stop competing is the day you get out of here."