One day after receiver Devin Thomas left training camp intending to retire from football, the Bears brought back a familiar face to help fill the void.
Receiver Rashied Davis, who played six seasons with the team from 2005-10, signed a one-year contract. The 5-9, 187-pounder appeared in 11 games last year with the Detroit Lions.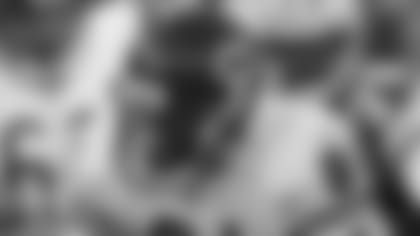 Rashied Davis returns for a second stint with the Bears after playing for the Lions last year
"I never thought I'd be this excited to pull up to this ONU campus again," Davis said Monday after arriving at Bears training camp in Bourbonnais.

"This is an opportunity to play football. That's all I ever wanted. That's all I ever asked for. Nothing has changed for me. It's no different than any time I was ever here. I was always expected to get cut, so I've always pushed to make teams and I'm going to have to do the same this year."

After playing cornerback as a Bears rookie, Davis was switched to receiver in 2006. He caught 88 passes for 1,032 yards and five touchdowns over the next five years, appearing in all 16 games each season. Davis also excelled on special teams; his 65 career tackles rank fifth in franchise history.

With Brandon Marshall, Devin Hester, Earl Bennett and rookie Alshon Jeffery at a stacked receiver position, it seems likely that Davis will be utilized more on special teams than offense.

"We'll see what happens when I get out on the field, where the opportunities lie," he said. "I know the biggest opportunity will probably be on the special teams side and I welcome that challenge."

Waiting until August for a chance to prolong his NFL career was difficult for Davis, who had been working out and spending time with his wife and their young daughter and son.

"At times it was tough," Davis said. "You've got people to support and you're trying to figure out, 'Well, is your career over? Are you still going to play?' Different people around the league were saying, 'Just be patient and stay in shape.' But it gets difficult. I've got two young kids and I'm trying to figure out what the next step in life is going to be. But I'm happy to be here today."

Davis has overcome huge obstacles his entire career. Weighing less than 100 pounds as a sophomore at Kennedy High in Granada Hills, Calif., he suited up for the football team but spent most of his time on the bench. He didn't play the sport again until three years later at West Los Angeles Community College.

After moving on to San Jose State, he spent four seasons in the Arena Football League with the San Jose SaberCats before being signed by the Bears.

"I try to tell kids all the time you've got to work and you've got to be willing to do anything at a young age," Davis said. [ ](http://www.phoenix.edu/campus-locations/il.html?utmsource=Story&utmmedium=instory&utmcampaign=300x100)
"I hate when people get pigeon-holed into different things. But you just work. For me it's always been about being the best football player that I could be doing whatever I could to try to contribute to winning games, and that's all I hope to do here."
Having played for Bears coordinators Ron Turner in 2009 and Mike Martz in 2010 before joining the Lions in 2011, Davis will be forced to learn yet another new offense.
"It's going to be hard, but it does make it easy that I know the system at least on special teams," he said. "I've been in it. I know the people, players and coaches. That's going to make it a little bit easier, but it's still going to be tough. Every year is tough. Training camp is the longest interview you ever go on, so I'm excited about the opportunity."