After generating an all-time franchise-low 11 takeaways last season, the Bears are hoping that the performance by their secondary in Sunday's practice is a sign of things to come.
Defensive backs had four interceptions in the workout, beginning on the first play of drills when cornerback Prince Amukamara picked off a deep Mike Glennon pass intended for Deonte Thompson. Mark Sanchez was later intercepted on back-to-back plays by safety DeAndre Houston-Carson and cornerback Kyle Fuller, though Fuller may have been out of bounds.
Rookie safety Eddie Jackson produced the play of the day by undercutting a deep out route and intercepting a Mitch Trubisky pass intended for Rueben Randle.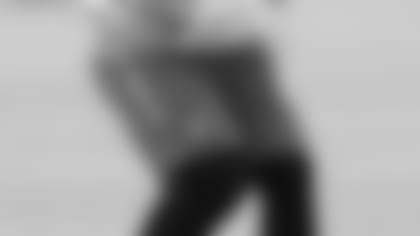 Prince Amukamara intercepted a pass on the first play of practice Sunday.


"I've always been a believer that you get what you emphasize and we've emphasized [forcing turnovers] quite a bit as a staff through the whole offseason, really since last season was over," said coach John Fox. "You've got to walk before you can run, so this is a good place to start, practicing it and seeing what the results are."
Jackson was selected by the Bears in the fourth round of the draft. In 41 games at Alabama, he had nine interceptions, 13 pass breakups, three forced fumbles and three fumbles.
Jackson scored three touchdowns on interception returns of 50 yards against Georgia and 93 yards versus Texas A&M in 2015 and 55 yards against Western Kentucky in 2016. He showed the same knack for finding the end zone while returning punts last year for the first time in his career, scoring TDs on returns of 85 yards against Mississippi and 79 yards versus Tennessee.
"A lot of it is ball skills," Fox said. "You look at a guy like Eddie Jackson. He had a nice pick today. My experience has been when a guy has punt return ability they can play and track the ball a little bit like an outfielder. He's got good ball skills."
On the shelf: Receiver Markus Wheaton is out indefinitely after undergoing an appendectomy Sunday morning.
"He had some stomach pains last night about 4 a.m.," Fox said. "Our training staff did a good job getting him, and he had an appendectomy about 9 o'clock this morning. They'll keep him in the hospital tonight. It's a scope-type procedure. They caught it and it didn't rupture, which is a good thing. So he'll start that recovery process."
Wheaton signed with the Bears in March after spending his first four NFL seasons with the Steelers. The speedy receiver caught 53 passes for 644 yards and two touchdowns in 2014 and 44 passes for 749 yards and five TDs in 2015. But a torn labrum he sustained last preseason limited him to just three games and eventually led to surgery in early December.
"He brings a speed element that we value," general manager Ryan Pace said last Wednesday when the Bears opened training camp. "He can really stretch the field. He's professional. I love his attitude. He's kind of the first-guy last-guy out kind of worker. But really I think the trait that we value when you think of Wheaton is the vertical speed that he can bring to the offense. That's important."
Roll call: Guard Kyle Long returned to practice Sunday after sitting out Saturday. Running back Benny Cunningham worked out in an orange jersey because he was dealing with tightness in his neck. Guard Eric Kush exited practice with a tight hamstring, as did offensive lineman Taylor Boggs with a possible concussion.
Making an impact: Rookie running back Tarik Cohen has quickly emerged as a fan favorite early in training camp, eliciting loud cheers when he breaks into the open field or makes one of the moves that earned him the nickname "the human joystick" at North Carolina
"We're not live tackling yet," Fox said. "But he's got some innate ability. Until we get into live tackling, we won't know that until we line up against the Broncos in the first preseason game. But so far he's looked pretty elusive."
After darting around left end and racing down the sideline into the end zone Sunday, Cohen celebrated by chest-bumping center Cody Whitehair. But the 5-6, 181-pounder ended up flat on his back after contacting the 6-4, 310-pound lineman in mid-air.
The Bears feel that Cohen will be able to create favorable match-ups against linebackers and safeties as a "joker" third-down back this season.
"This game is about matchups," Fox said. "He's got a different skill set than say Jordan Howard. They are different types of players. Just like you have a 'Y' tight end and an 'F' tight end, those are different animals athletically. I don't know that you could say we had a third-down back here in our tenure, so along those lines, [he's] a guy that can be a matchup problem on third down."