Speaking to the media Friday for the first time at training camp, Bears defensive coordinator Vic Fangio discussed Jared Allen's transition to a new position, Shea McClellin's performance and more.
After lining up as a 4-3 defensive end during his first 11 NFL seasons, Allen has been moved to outside linebacker in Fangio's 3-4 system, a switch Allen has embraced.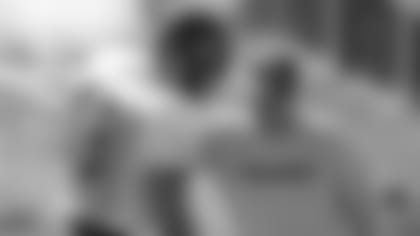 Defensive Coordinator Vic Fangio
"It's been going well," Fangio said. "He's doing well mentally for a guy that's never played there. He's picked up the stuff good mentally. He executes well. He just has to learn and feel and be exposed to more route combinations, when he's dropping exactly how to play them."
Fangio has converted college defensive ends into NFL outside linebackers, but he conceded that it's unusual to make that move with an established veteran.
"It's not as common for a guy that's played defensive end for as long as he has in his career to do it," Fangio said. "But luckily in his case he's very smart football-wise, understands the game, and he's picked the stuff up really well."
McClellin is another player who has impressed Fangio at a new position. A Bears defensive end in 2012-13 and outside linebacker last year, the 6-3, 245-pounder has excelled in camp at inside linebacker.
"He's done well in there," Fangio said. "I know he has a history of being moved around, but one of our first discussions when we got here was where to play him. Most people wanted to play him outside, including him, but I didn't see it that way.
"I said I want to put him at inside first and I'm glad we did and I think he's glad we did now even though he wanted to play outside first. I think he's found a home in there."
Fangio is eager to see how McClellin takes what he's learned in camp and applies it in preseason games.
"It's going to be a growing process," Fangio said. "It's a position that relies a lot on experience, instincts and play recognition, and I think he's getting better and better at that."
One of Fangio's primary goals in training camp is to identify a starting defensive line out of what's been a wide open competition.
"We need to find our d-line," Fangio said. "Coaches don't pick the team, the players do. Somebody's got to step out and be an obvious pick as to who's the starters, who makes the team.
"Right now we have one really good player in Jay Ratliff. The other guys are fighting for that second, third, fourth, fifth and potentially sixth spot. There's a good fight going on right now."
One player in the mix is 2014 second-round draft pick Ego Ferguson, who recorded 27 tackles and two sacks while appearing in all 16 games as a reserve last season as a rookie.
"I think he's improved from last year to the offseason to now," Fangio said. "I think he's gotten better. He's learning the techniques and the style, the way we want to play. I think he's had [an increase in] maturity from Year 1 to Year 2. We'll see if he can carry it over into the games."
Another second-year pro auditioning for a prominent role on defense is inside linebacker Christian Jones, who played in all 16 games with five starts last season as a rookie after being signed as an undrafted free agent.
"He's coming," Fangio said. "Inside linebacker, like I said, is an instinct, play-recognition position. That's why you see some of these guys that maybe don't have the greatest ability sometimes surviving in there and playing good because they're just really good at play recognition and reacting and he's getting better and better at that. He's not where he needs to be. He won't be where he needs to be until two or three years from now. You know it takes time."
Fangio also discussed the return of Lamarr Houston and Willie Young, both of whom sustained season-ending leg injuries last year and are being converted from defensive end to outside linebacker. While Houston played the position with the Raiders, Young has no previous experience at linebacker.
"[Young] missed the entire offseason because of his injury," Fangio said. "So he's battling not just a new position like a lot of them are, but he didn't get the offseason work, so he's behind."