Right guard Kyle Long's absence from practice the first week of training camp due to a viral infection gave veteran Brian de la Puente a chance to work with the first-team offensive line.
"These opportunities are very valuable and you've got to make the most of them," De la Puente said. "You don't know when they're going to come and when they do you have to capitalize. These last couple days I've been getting some good reps with the ones and feel pretty good about it."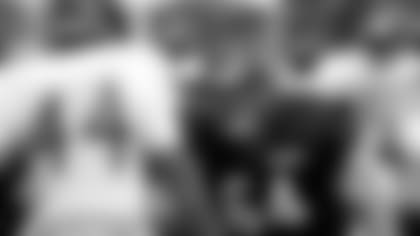 Bears offensive lineman Brian de la Puente prepares to block safety Adrian Wilson in practice.
De la Puente signed with the Bears in April after spending the last three seasons with the Saints, starting all 16 games at center each of the last two years and 12 of 16 games played in 2011. With the Bears this season he is expected to back up the center and guard positions.
"I'm just trying to stack good days together, good reps together, good plays together, good periods together, and then before you know it you're put together a good body of work," De la Puente said.
De la Puente, 29, entered the NFL with the 49ers in 2008 as an undrafted free agent out of California. He also spent time with the Chiefs (2008), Seahawks (2009), Panthers (2009), 49ers (again in 2010) and Seahawks (again in 2010) before joining the Saints in 2011.
Like Bears left tackle Jermon Bushrod, De la Puente excelled in New Orleans under the tutelage of Bears offensive coordinator Aaron Kromer, who served as Saints line coach from 2009-12.
Playing for the same coach in a similar offense is helping De la Puente's transition with the Bears.
"I feel like I've got a pretty good handle on what everybody's trying to do," he said. "So then you can think on the move and play your rules because you know what everybody's doing. For me it's good to get some [reps at] guard and to get that technique work because it is different."
Joining an offensive line that returns all five starters plus top reserve Eben Britton, De la Puente is trying to jump into the water with both feet without making waves.
"Cohesiveness is very important," he said. "The communication is key. I've really been speaking up, asking [center Roberto] Garza, 'what do you say in this situation, how are we treating this?'
"We really do a good job of all being on the same page, studying film together, working out together, just so that cohesiveness and communication is there and always growing. So I'm just trying to fit in where I can and learn from one of the best [in Garza]."
De la Puente is fitting in off the field as well with the offensive line, which is arguably the most close-knit position group on the Bears. The linemen regularly travel en masse to the practice field, cafeteria and meeting rooms.
"That's how we roll," De la Puente said. "The O-line is a tight group. On the field, we're a unit. We're a band of brothers and it carries over off the field, hanging out."