The Bears defense certainly didn't play its best game of the season Sunday in Detroit, allowing three touchdown passes for the second time in three weeks.
But the unit generated three of the team's four takeaways in a 26-24 win over the Lions that kept the Bears' playoff hopes alive until the Vikings beat the Packers a few hours later.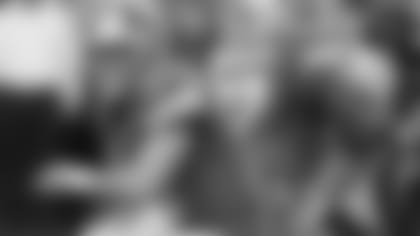 Israel Idonije strips the ball from Matthew Stafford during the Bears' 26-24 victory.

"That's what we've been doing all year, taking the football away," said coach Lovie Smith. "So with the game on the line you want to [rely] on the defense to do it again, and they were able to do that. It was just an outstanding job."

The first takeaway by the Bears defense came late in the first half when Israel Idonije charged up the middle and swatted the ball away from Lions quarterback Matthew Stafford.

Julius Peppers scooped up the fumble and returned it six yards to the Detroit 10, setting up Matt Forte's one-yard touchdown run, which gave the Bears a 17-3 lead.

"That was huge," Peppers said. "It kind of built some momentum for us early and we got a score out of it, so it was a huge play in the game."

Tim Jennings followed with his ninth interception of the season, picking off Stafford's overthrown pass intended for Tony Scheffler and returning it 31 yards to the Detroit 23. The interception led to Olindo Mare's 40-yard field goal, enabling the Bears to widen the margin to 20-3.

The Bears also produced a takeaway on special teams as Joe Anderson forced a fumble on a kickoff return that Eric Weems recovered at the Detroit 24 late in the first quarter.

Covering Calvin: The Bears held Pro Bowl receiver Calvin Johnson to five receptions for 72 yards, snapping his NFL-record streak of eight straight 100-yard games.

"It's hard to shut down Calvin Johnson completely," Smith said. "We wanted to get a lot of people on him, roll the coverage, double-team him as often as we could. So we did a pretty good job of not letting him get the big one. We wanted him to earn it underneath as much as anything and we were able to do that for the most part."

With Pro Bowl cornerback Charles Tillman shadowing him, Johnson had just eight receptions for 106 yards in two games against the Bears this season. Johnson finished the season with 122 catches for a league-record 1,936 yards.

Marshall plan: Bears Pro Bowl receiver Brandon Marshall was targeted 14 times, but caught only five passes for 42 yards, his lowest totals in both categories in six games.

Marshall made a huge play without the ball, however, when he sealed the edge with a great block to spring Earl Bennett on a 60-yard touchdown reception late in the first quarter.

"I thought [Marshall] was OK," Smith said. "He made some plays and had an opportunity to make a few more he would say. But I'm going to go to that big block. His biggest play might have been the block on Earl's touchdown. Brandon Marshall has played the same way really all year. We know what we're going to get from him each time he goes out on the field."

Marshall finished the season with 118 catches and 1,508 yards, both Bears records. But he no doubt would trade his stats for the first playoff appearance of his seven-year NFL career.

"Brandon wants to win," Cutler said. "If I told B, 'Hey, you're not going to get targeted, you're not going to get any catches and we're going to win the ballgame, he would do his part.

"He does a great job blocking. He set up Earl's touchdown with a great block and he blocked well for Matt on the edge all day. Brandon does little things well. It's not just him catching the football for us."

Roster notes: Middle linebacker Brian Urlacher (hamstring), running back Armando Allen (knee), safety Chris Conte (hamstring) and linebacker Blake Costanzo (calf) sat out Sunday's game with injuries. Quarterback Josh McCown, tackle Cory Brandon and defensive tackle Nate Collins also were inactive.