If the revamped Bears defense performs this season like it did Friday in Bourbonnais, the unit's poor performance last year will quickly become a distant memory.
The defense dominated throughout Friday's practice, most notably in a red-zone drill when the first and second units did not allow a touchdown on 13 pass plays all from inside the 10-yard line.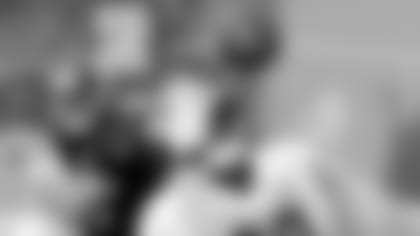 Cornerback Demontre Hurst dives to pick off a deflected pass Friday in Bourbonnais.
"There's an ebb and flow to the way practices go," said coach Marc Trestman. "Yesterday in the tight red zone, the offense carried the day. Today in the tight red zone the defense amped it up. We had some contested throws, some real good plays defensively."
Linebacker Lance Briggs, nickel back Isaiah Frey, cornerback Demontre Hurst and safety M.D. Jennings all broke up passes in the drill. On four other snaps, tight coverage forced the quarterback to either spike the ball at the feet of a receiver or throw it out of bounds.
"That's huge," said cornerback Tim Jennings. "They're going to get down there, but we've got to keep them out and the defense did well keeping them out. Against a high-powered offense like ours, it's a good sign."
The defense prevailed again in a two-minute drill late in practice when safety Danny McCray intercepted a Jay Cutler pass over the middle that was deflected by Briggs. McCray worked with the No. 1 unit for the third straight day, this time opposite veteran Adrian Wilson.
"For the last couple of days the offense has carried the two-minute," Trestman said. "Today you saw Lance make a great play on the defensive side getting to the ball, and that's all good."
Earlier in the practice, Hurst intercepted a pass and Sherrick McManis forced and recovered a fumble when he stripped the ball from running back Michael Ford after a reception.
"I'm very pleased," Jennings said. "I thought we got a lot of physicality out of the defense. I think we dominated on every end. In two-minute, we got off the field early. Anytime you can do stuff like that and get turnovers, it was a good day for the 'D.'"
In terms of producing interceptions and fumbles, the defense is hoping to revert to form. The Bears led the NFL in takeaways with 44 in 2012, 14 last preseason and 11 during the first three weeks of the 2013 regular season. But they generated only 17 more during their final 13 games to finish with 28, tied for 13th in the league.
As was the case Friday in practice, takeaways often seem to come in bunches.
"Everybody starts to get in a groove and everybody wants to be greedy and get one," said Jennings, whose 13 interceptions the last two seasons rank second in the NFL to the Seahawks' Richard Sherman (16). "Once you get one, then another one comes, and you start to get a lot like that."
Decimated by injuries on defense in 2013, the Bears allowed the most points (478), total yards (6,313) and rushing yards (2,583) in franchise history. But the unit that has been excelling on the field in training camp bears little resemblance to that group.
The Bears spent the offseason bolstering their defense. They signed ends Jared Allen, Lamarr Houston and Willie Young in free agency and spent four of their first five draft picks on cornerback Kyle Fuller, tackles Ego Ferguson and Will Sutton, and safety Brock Vereen.
With Friday's performance, it appears that the defense is beginning to build something special.
"That's the way we're feeling right now," Jennings said. "We have had a couple consecutive good days. Of course, nobody's perfect out here. But we're just trying to find ways to get better, plug guys into the right positions … and make plays, and I think we've been doing that so far."