After making costly mistakes down the stretch that led to back-to-back losses, the Bears defense finally finished with a flourish Monday night in San Diego.
Protecting a 22-19 lead on the Chargers' final possession, outside linebacker Lamarr Houston recorded two sacks and cornerback Tracy Porter broke up a key third-down pass to help preserve the win.
"A lot of times you hear coaches say, you hear players say, 'We've just got to make some plays,'" said defensive coordinator Vic Fangio. "Those [sacks] were two examples of a guy making a play. Tracy Porter's breakup was an example of a guy making a play.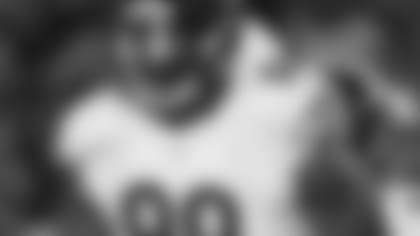 Outside linebacker Lamarr Houston recorded two sacks in the win over San Diego.
"So it came down to the end there and guys made plays. Lamarr made two of them, Tracy made one and we got out of there with a win."
Houston entered the game with just two sacks in 15 contests in two seasons with the Bears and matched that total in a couple minutes during crunch time. The seldom-used six-year veteran also drew two offside penalties in the game.
"[The sacks] were huge plays," Fangio said. "Now if we can just eliminate the offsides, he'll play even more and more. But that should do a lot for his confidence, to go in there and make plays at a crucial time like that."
The Chargers entered Week 9 ranked No. 1 in the NFL in total yards and passing yards and had scored at least 20 points in five straight games before being held to 19 points and only one offensive touchdown by the Bears.
"That offense has run it up on a lot of people over the years, this year being no exception." Fangio said. "They were rated No. 1 in the league coming into the week. We had a poor first drive. But we rallied after that and I thought played well."
After allowing nine touchdowns in the first two games of the season, the Bears defense has permitted just 10 TDs in its last six contests. The unit has yielded only one touchdown in three of its last four games against the Chiefs, Vikings and Chargers.
"I think this defense is getting better every week and I think that the guys are working together and understanding how we work together inside the defense," Houston said. "We're just putting out good tape right now. We're going to keep on working in practice and teaching ourselves how to win and close out games."
The Bears hope to build on Monday night's finish when they visit the Rams Sunday in St. Louis. They'll be challenged by rookie running back Todd Gurley, who ranks fourth in the NFL in rushing with 664 yards despite missing the first two games of the season while recovering from a torn ACL he suffered last November at Georgia.
Gurley ran for more yards (556) in his first four starts than any other player since the NFL/AFL merger in 1970.
"I've heard some people compare him to Adrian Peterson when he first came into the league, so just to even consider that tells you where this guy is from a talent standpoint," Fangio said. "He's got good size, good speed and he's tough to tackle."
Bears coach John Fox is not surprised that Gurley has excelled with the Rams.
"He's a phenomenal player," Fox said. "Kind of knew that coming out [into the draft]. He had done it at a high level in college. To me, he's transformed that to the pro game. He's explosive. He's big. He's got good vision."
The Bears defense enters Week 10 ranked 24th against the run. The unit has allowed two opposing runners to top 100 yards this season—Cardinals rookie Thomas Rawls (16 carries for 104 yards) and the Vikings' Peterson (20-103).
Gurley, meanwhile, has already posted games of 159, 146, 133 and 128 yards this year.
"It's going to be important to set the edge and get off blocks because the guy is a talented runner," Houston said. "I think he's probably a top-three running back in the league right now. We've got to keep him in the box, set the edge and make sure he's not back there hitting the holes without being stopped."