Unlike the future Hall of Famer he's replacing, the young quarterback the Bears will face Sunday at Soldier Field doesn't have much of a track record or résumé to study.
Backup Brock Osweiler will make his first NFL start on his 25th birthday in place of Peyton Manning, who will be inactive due to foot, rib and shoulder injuries.
"There's always the unknown," said defensive coordinator Vic Fangio. "You don't have a lot of tape to watch of the guy, of him performing and performing in this offense because his first few years in the league it was a difference offense. You don't have a lot of visual evidence, so you've just got to be ready to go."
Osweiler was selected by the Broncos in the second round of the 2012 draft out of Arizona State. The 6-8, 240-pounder has appeared in 14 games, all as a reserve, in four seasons, completing 31 of 54 passes for 305 yards with two touchdowns, one interception and a 78.1 passer rating.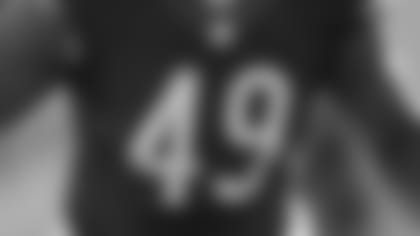 Bears linebacker Sam Acho
Osweiler worked with current Bears offensive coordinator Adam Gase in Denver during the quarterback's first three NFL seasons. But Osweiler is in his first year with coach Gary Kubiak and his staff.
As the Bears prepare for Sunday's game at Soldier Field, they're expecting the Broncos to employ generally the same offense with Osweiler as they did with Manning. Denver didn't change much last weekend when Osweiler replaced Manning in the third quarter of a loss to the Chiefs.
"They've been running this offense now for nine weeks plus training camp, so I think they'll continue it," Fangio said. "Obviously when you get a new quarterback they may tailor a thing or two to what he does better or feels more comfortable with than Peyton did. But when he came in [last Sunday], they ran the same stuff."
After replacing Manning against the Chiefs, Osweiler completed 14 of 24 passes for 146 yards with one touchdown, one interception and a 72.6 passer rating.
"He's got a big arm, he's athletic, he'll scramble much more than Peyton would," Fangio said. "He can run some of the boots more than Peyton would and Gary likes those boots. You'll see an athletic guy with a big arm, probably pretty similar to [Ravens quarterback] Joe Flacco if you're trying to draw a comparison."
Coach John Fox, who worked with Osweiler the previous three years in Denver, thinks the Bears have a fairly good handle of what to expect from the inexperienced quarterback.
"There's a book on every player in this league," Fox said. "Obviously, his book's not real thick because there hasn't been a lot of playing time. How he fits in the offense, what they'll try to do with him, I think we have a pretty good understanding of."
The Bears know that Osweiler will be eager to show what he can do Sunday after spending his entire NFL career up to this point as Manning's backup.
"It's really important to get after him early, especially when you're a guy getting your first start," said outside linebacker Sam Acho. "When you get your first start you're trying to go out there and prove something, so we want to make sure he's not proving anything against us."
Manning was benched last Sunday after completing just 5 of 20 passes for 35 yards with no touchdowns, four interceptions and a 0.0 passer rating. On the season, Manning has thrown an NFL-high 17 interceptions and ranks 31st out of 32 qualifiers with a 67.6 passer rating.
"He won a lot of football games for us, I will say that," Fox said. "I'm proud to have been able to coach him. I know things haven't gone quite like probably he's expected, and for that I feel bad for him. But he'll bounce back. He's a consummate pro. He'll have better days to come."