Bears defensive coordinator Vic Fangio won't have to say much to his players to convey how dangerous Sunday's opponent, Adrian Peterson, is with the ball in his hands.
"All you've really got to do is show them the tape," Fangio said Wednesday when asked about facing the Vikings star running back. "We all know how fast he is and strong and explosive and a threat to hit a home run all the time."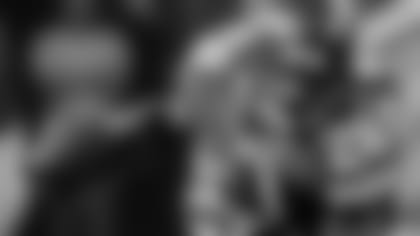 Vikings running back Adrian Peterson has rushed for 1,396 yards and 14 touchdowns in 12 career games against the Bears.
In 12 career games against the Bears, Peterson has rushed for 1,396 yards and 14 touchdowns on 278 carries. He ran for 224 yards in his first match-up with Chicago on Oct. 14, 2007 and 211 yards in his last meeting with the Bears on Dec. 1, 2013.
"It's going to take 11 guys playing good run defense to get this guy stopped," Fangio said. "You can be going along fine with him and then all of a sudden he breaks a 40- or 50-yarder or more. So you've got to be on point with him all the time."
The Lions learned that lesson last Sunday, holding Peterson in check before he burst through the line for a 75-yard gain, setting up a field goal that helped the Vikings turn a 17-6 deficit into a 28-19 victory in Detroit.
Peterson enters Sunday's game at Soldier Field ranked fourth in the NFL in rushing with 530 yards on 120 carries. Since being limited to 31 yards in a season-opening loss to the 49ers, he has averaged 99.8 yards per outing in helping the Vikings win four of five.
"They struggled a little bit in their opener, not just him, a little bit as a football team," said Bears coach John Fox. "I think he's been impressive since that point. You contain him for 30 of his runs and his last five are the ones that get you and he'll get an explosive one in there somewhere. That's his capabilities. He's a great player."
Since being selected by the Vikings with the seventh pick in the first round of the 2007 draft out of Oklahoma, Peterson has been selected to six Pro Bowls and was voted NFL MVP In 2012 after setting the league's single-season rushing record with 2,097 yards.
Peterson was suspended by the NFL for the final 15 games last season for what the league termed "an incident of abusive discipline" involving his 4-year-old son.
A year later, it appears that the veteran running back has already reverted to his customary All-Pro form, rushing for 134 and 126 yards in back-to-back wins over the Lions and Chargers in Weeks 2 and 3.
"He's an all-around beast," said Bears safety Antrel Rolle. "He can catch the ball out of the backfield and we obviously know what he can do when he has the ball in his hands. He's a guy that has explosive power as well as explosive speed. He's definitely that dynamic duo of a threat.
"You have to just go play ball. Adrian Peterson is a hell of a running back. He's been one of the best running backs in the league ever since he stepped into this league. All due respect to him, though, our guys just have to go out there and play well."