Ryan Lindley isn't exactly a household name, but the Bears aren't taking anything for granted as they prepare to face the Cardinals rookie quarterback Sunday in Arizona.
Lindley, a sixth-round pick from San Diego State, has started Arizona's last five games, completing 72 of 141 passes for 611 yards with no touchdowns, six interceptions and a 45.0 passer rating.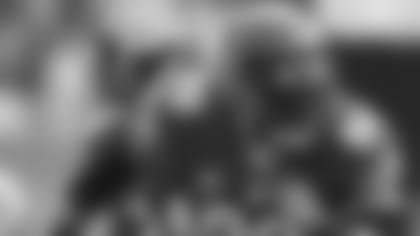 Veteran defensive end Julius Peppers leads the Bears this season with 8.5 sacks.
"He's got good pocket awareness in terms of moving around," said defensive coordinator Rod Marinelli. "He does a nice job there. He's got a nice arm. They are really trying to run the ball and get the play-action going down the field, and he's working to take care of the ball."
Lindley threw four interceptions Nov. 25 in a loss to the Rams, but he's only been picked off twice in his last three games against the Jets, Seahawks and Lions. The Cardinals have permitted a league-high 52 sacks this season, but Lindley has only been sacked 10 times in five games.
"The ball is coming out nice and quick, the screen game has been a little bit better and they are running the ball," Marinelli said. "I think last week they ran it pretty effectively."
Injury update: Receiver Earl Bennett (concussion) and cornerback Tim Jennings (shoulder) practiced on a limited basis Friday and were listed as questionable for Sunday's game.
"We're getting a few guys back-Earl Bennett, Tim Jennings-which should help an awful lot," said coach Lovie Smith. We know what's at stake this week, can't wait to get out there and play."
Middle linebacker Brian Urlacher (hamstring) has been ruled out of the game and defensive tackle Henry Melton (chest) was listed as doubtful after not practicing Friday. Linebacker Blake Costanzo (calf) and right tackle Jonathan Scott (hamstring) are questionable.
"Blake Costanzo has a calf injury that we're concerned about," Smith said. "He wasn't able to do anything today. Hopefully he'll be OK."
Happy homecoming: Re-signed this week to replace the injured Michael Bush, running back Kahlil Bell is thrilled to be back with the Bears for the third time this season.
 "I feel like Chicago is my home whether I'm playing here or not," Bell said. "It's just a blessing to be back here and be with the fellas and have an opportunity to get into the postseason and do some damage."
Bell has appeared in 22 games with three starts the past four seasons with the Bears, rushing for 589 yards on 131 carries and catching 21 passes for 148 yards and one touchdown.
He was waived by the Bears Aug. 23 and then re-signed Sept. 15 after Matt Forte injured his ankle in a loss to the Packers. Bell was waived again Oct. 15. He signed with the Jets Nov. 13 and was waived by New York Dec. 11 after appearing in three games.
Bell isn't sure how much action he'll see in the backfield  Sunday in Arizona.
"I have no clue," he said. "If they ask me to go in, I'm going to try to do what I've done my whole career and try to make plays."
Sad news: Former linebacker Larry Morris, who helped the Bears win the 1963 NFL championship and was named MVP of the title game, died Wednesday after a long illness. He was 79.
An Atlanta native who attended Georgia Tech, Morris spent seven of his 11 NFL seasons with the Bears from 1959-65, and was named to the league's All-Decade Team for the 1960s.
A memorial service will be held Friday, January 4, 2013, at 1 p.m. at Mt. Vernon Baptist Church in Sandy Springs, Ga. In lieu of flowers, donations may be made to Eagle Ranch, a Christian children's home at Eagle Ranch, P.O. Box 7200, Chestnut Mountain, GA 30502.