The Bears defense has allowed just six touchdowns in its last five games, the same number the unit permitted in the first half of last year's 55-14 loss in Green Bay.
Quarterback Jay Cutler has noticed the vast improvement, especially after the defense gave up just one TD in Thursday night's 17-13 win over the Packers at Lambeau Field.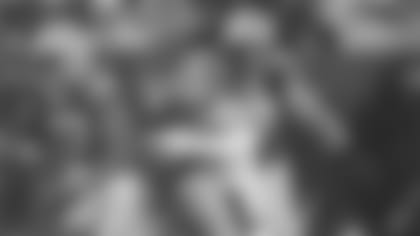 Bears safety Chris Prosinski forces an Eddie Lacy fumble in Thursday night's win over the Packers.
"It's amazing," Cutler said. "A lot of new faces over there. You look across that side and there's not a lot of guys from last year. And for them to gel that quickly, learn a new system, it speaks a lot of our coach on how good of a job they're doing. It speaks a lot about the players and what kind of character and what kind of players we have on that side."
The Bears defense held Packers quarterback Aaron Rodgers to a 62.4 passer rating Thursday night, his lowest in 61 career home games.
Of the 11 defensive starters Thursday night, eight are in their first season with the Bears: Nose tackle Eddie Goldman, defensive end Jarvis Jenkins, inside linebacker Jonathan Anderson, outside linebacker Pernell McPhee, cornerback Tracy Porter, nickel back Bryce Callahan and safeties Adrian Amos and Chris Prosinski.
Prosinski is a perfect example of the Bears' next-man-up philosophy. Starting in place of the injured Antrel Rolle, Prosinski stripped the ball from running back Eddie Lacy and outside linebacker Lamarr Houston recovered at the Green Bay 34.
It was the first career forced fumble for Prosinski, who has played in 64 NFL games with the Jaguars (2011-14), Eagles (2014) and Bears (2015), mostly on special teams.
"I just pursued from behind and tried to wrap up and get an arm on it," Prosinski said. "Right when I got contact, I felt the ball slip, but I wasn't able to see what happened until I saw the pile."
The Bears converted the turnover into Cutler's 3-yard touchdown pass to tight end Zach Miller, tying the score 7-7 with 6:03 left in the second quarter. Prior to that drive, the Bears offense had mustered just one first down on its first five possessions, all of which resulted in punts.
"I don't think we are going to like the film that much because we didn't play as well as we wanted to," Cutler said. "Defensively, you have to hand it to them. A heck of an effort on the defensive side. You have to give them a lot of credit."