Tonight's preseason game against the Jaguars at Soldier Field will give a revamped Bears defense an opportunity to continue to gel and build off last Friday night's outing versus the Eagles.
Veteran defensive end Jared Allen, who is expected to make his Bears debut, knows that a line stocked with so many new players must develop cohesiveness heading into the regular season.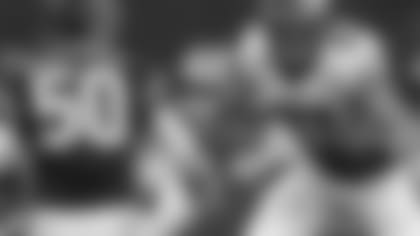 Bears linebacker Shea McClellin prepares to tackle Eagles tight end Brent Celek last Friday night.
"It's very important for us," Allen said. "I've got to know where my guys are going to go. I need to know how [tackle Jeremiah Ratliff] is going to react to a certain block or slide set. He needs to know where I'm going to be at so we can 'feel' off each other."

Allen remains one of the NFL's most prolific pass rushers. His 128.5 sacks in 10 seasons with the Chiefs and Vikings are the most by any player since he entered the league in 2004. But the 6-6, 265-pounder knows that there's more to playing his position than chasing quarterbacks.

"It starts with stopping the run," Allen said. "You can want to rush the passer all day, but if you're never in those situations, then you're never going to get an opportunity to put that on film.

"We're trying to build all-around players. In this league, d-line guys are only judged by how many sacks they have. But fortunately there's a lot more to it than just getting after the quarterback. You have to set yourself up to get in those situations and that's what we're working hard on in our room."

Tonight's game will also provide an opportunity for converted defensive end Shea McClellin to continue to progress at strongside linebacker.

"I think you're going to see more improvement as we go along as he locks into the 'Sam' position," said coach Marc Trestman. "Playing at that speed and playing real football, so to speak, that's not an easy thing to do. I thought he was sufficient [in the preseason opener], but I think there are signs that he can play a lot better and I'm sure he would tell you that."

The more reps McClellin gets at his new position the more instinctive he figures to become.

"It's one of those things where he's working at it," said defensive coordinator Mel Tucker. "We see him do it in practice. He looks very instinctive in practice and we saw him make sudden movements and quick decisions in the [preseason opener]. I think he's already doing that to a certain extent and we just have to work to get better."

Another player making a transition of sorts is cornerback Tim Jennings. Selected to the Pro Bowl each of the past two seasons, Jennings is moving to nickel back in passing situations in order to get first-round draft pick Kyle Fuller on the field.

"It's new to me," Jennings said. "It's new terminology, new keys. You've got to do a lot more with your eyes. It's all about a 'feel' game. So once you get comfortable, get a feel for certain routes and where everybody is going to be, I can be in the right spot."

Tonight's game also gives the Bears a chance to continue their evaluation of a wide-open competition at safety, where Chris Conte, M.D. Jennings, Danny McCray, Ryan Mundy, Craig Steltz, Brock Vereen and Adrian Wilson are battling for jobs.

"We have worked different combinations, moved guys around and we've stated to those guys that we're going to continue to do that, and at the end of the day we'll have a starting group and we'll have a rotation," Tucker said.

"The group played solid in the [preseason opener]. They were sound, for the most part were where they were supposed to be, and I think we're getting better together at that position. At the end of the day we'll add it up and see where it is."