While the new Bears offense doesn't look anything like the versions coordinated by Mike Martz and Mike Tice the past few years, it appears that little has changed on the other side of the ball.
During minicamp practices this week, a Bears defense led by Pro Bowlers Lance Briggs, Charles Tillman and Julius Peppers is still using its speed to swarm to the ball and generate takeaways.
"With any defense, those are the things that you want to stress," said safety Chris Conte. "It made us a successful defense, so why change it? We're going to keep that stuff going. We have mostly the same players. The same mentality is still there, and these coaches are preaching the same thing now that our coaches were before."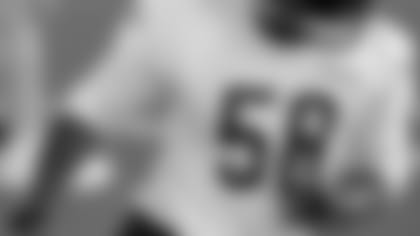 D.J. Williams joins the Bears after spending his first nine seasons with the Denver Broncos.

After the Bears led the NFL with 44 takeaways and nine defensive touchdowns last season, the emphasis remains the same under first-year coach Marc Trestman and new defensive coordinator Mel Tucker.

"That's been the way and the style of defense that we're going to play and have played here," Trestman said. "Mel being here and being the new guy from a defensive standpoint, he's going to put his spin on things and his take. But he's going to try to use all the positive elements that we have and have a system that's flexible to use this speed, to use the type of players that we've got on the field here. We've got a good group of guys. It's very apparent they're not only fast, they're smart."

In Tuesday's practice, cornerback Zack Bowman and safety Tom Nelson had interceptions. On Wednesday, Conte and safety Tom Zbikowski picked off passes.

"We had a good day [Tuesday] and tried to do better [Wednesday]," Tucker said. "It's all about taking the ball away and getting to the quarterback."

After studying Bears defenders on tape for several weeks, Tucker has enjoyed finally working with them. Coaches have conducted meetings with players since April 2 but weren't permitted to join them on the field until this week.

"What you see on tape is what you see in practice," Tucker said. "They play fast, they play physical, and obviously they play that way because they practice that way. Guys are playing fast right out of the box. They're running. They're excited. They love the game. They play for each other and that's what I saw on tape."

Tucker joins the Bears after spending the previous five seasons as an NFL defensive coordinator with the Browns (2008) and Jaguars (2009-12). He served as Jacksonville's interim head coach for the final five games of the 2011 season and returned as defensive coordinator on Mike Mularkey's staff in 2012 while adding the title of assistant head coach.

"Coach Tucker is an aggressive coach," Conte said. "He's a very fiery coach and has the same mentality of going to get the ball. The same way we practiced before is the same way we're going to continue to practice."

Trestman helped create some continunity on defense by retaining position coaches Mike Phair (defensive line) and Jon Hoke (defensive backs) from Lovie Smith's staff.

The biggest difference with the Bears defense, of course, is that future Hall of Famer Brian Urlacher is no longer on the roster. The team announced March 20 that the two sides were unable to reach a contract agreement, effectively ending Urlacher's illustrious career in Chicago.

Free-agent acquisition D.J. Williams is expected to start at middle linebacker this year, and Tucker feels that the transition is going smoothly. The 30-year-old spent his first nine seasons with the Denver Broncos, starting 115 of 127 games played from 2004-12.

"So far so good," Tucker said. "Everyone's trying to step up and get better. D.J. is learning the system. He's been very diligent about that and we're just going to take it one day at a time."

The Bears aren't putting any undue pressure on Williams or any other player to replace Urlacher, an eight-time Pro Bowler who was named the 2005 NFL Defensive Player of the Year.

"We just talked to the guys about being as good as you can be each and every day and work to get better," Tucker said. "Our foundation is technique and fundamentals; playing smart, playing fast and playing physical, and we just try to keep a focus and keep it narrow so we can get better every day."