With four veteran starters on injured reserve, the Bears defense is expected to have at least five rookies on the field at times Monday night against the New Orleans Saints.
But that doesn't mean the unit will wave a white flag before taking on quarterback Drew Brees, tight end Jimmy Graham and the rest of the NFL's third-ranked offense.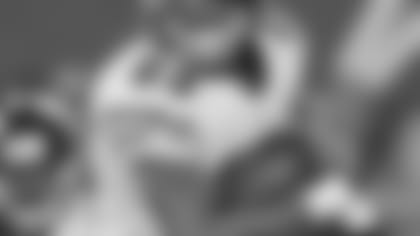 Rookie cornerback Kyle Fuller is tied for the Bears lead with three interceptions.
"They're still rookies and they're still young, but I never bought into that 'we're young' thing," said veteran defensive end Jared Allen. "I think that's an excuse. You're in the NFL. By the time I got to the NFL I'd been playing football every year since I was eight. That's a lot of years of football.
"They're young for the NFL, but it's still football. You still have to go out and make plays. You're here for a reason. We're all being coached in the same techniques. You're here because you have ability, so now you have an opportunity to put it on tape."
The Bears on Thursday placed middle linebacker D.J. Williams on injured reserve, joining linebacker Lance Briggs, cornerback Kyle Fuller and defensive tackle Lamarr Houston. In addition, safety Chris Conte (back) and linebacker Darryl Sharpton (hamstring) did not practice Thursday, while defensive tackle Jeremiah Ratliff (knee) was limited.
With all the injuries, rookies who could see extensive playing time Monday night at Soldier Field include defensive tackles Ego Ferguson and Will Sutton, linebacker Christian Jones, cornerback Kyle Fuller and safety Brock Vereen.
"Guys are going to step up to the challenge," said defensive coordinator Mel Tucker. "We're working hard with them each and every day in the meetings and on the practice field. The veteran guys are leading the way. We're just preparing and we'll go play."
Allen sees Monday night's game as a great chance for the rookies to earn playing time. He recalled that when he beat out Vonnie Holliday for a starting job with the Chiefs six weeks into Allen's rookie season in 2004, the veteran called him and said: "You got my job; don't let me have it back."
"That's how people earn a spot," Allen said. "You see it all the time through the NFL, these great stories, and all they needed was an opportunity. So if I'm a young guy, that's my mindset. I'm not thinking, 'I'm young.' It's a great opportunity. You take Christian Jones, an undrafted free agent, starting a game on Monday Night Football in the NFL. It doesn't get much better than that.
"And as a vet, I'm expecting them to play at a level that is acceptable, making a play and getting the job done. I'm not going to come in at the end of the game and say, 'Well, we almost won but we're young.' That's not an excuse. The only thing that's acceptable is winning."
Allen has been impressed with how Ferguson and Sutton have performed after arriving as the Bears' second- and third-round picks in this year's draft, respectively. Sutton has recorded 23 tackles and 2.5 tackles-for-loss, while Ferguson has compiled 21 tackles and two sacks.
"They have a lot of talent, they really do, and they show spurts of it," Allen said. "Just like any young player in the NFL the biggest challenge is consistency. It's hard to do unless you're in there every time. But they work their butts off in practice.
"They're very eager to learn. They ask questions. They accept coaching. They didn't come in here with this entitled mentality; that they thought they belonged somewhere. They really are humble individuals and they go out there and they work. For me, that's what I look for in a rookie."