A Family Fest crowd of 23,492 watched the Bears defense outperform the offense in a 36-play scrimmage that featured live tackling Saturday at Soldier Field.
In 12 snaps pitting the No. 1 offense against the No. 2 defense, linebacker Mason Foster made a nice stop on running back Jacquizz Rodgers, linebacker Jonathan Bostic forced two incompletions with tight pass coverage and outside linebacker David Bass was credited with a sack of Jay Cutler. The best play by the offense was a completion from Cutler to receiver Eddie Royal.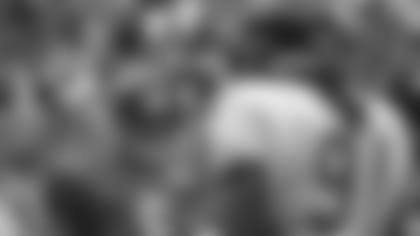 Jay Cutler looks over the defense at the Bears' Family Fest practice Saturday.
The No. 1 defense also excelled versus the No. 2 offense as inside linebacker Shea McClellin and outside linebacker Jared Allen were credited with sacks of Jimmy Clausen and Tim Jennings knifed through a blocker to blow up a screen pass, dropping running back Ka'Deem Carey for a 4-yard loss.
Running back Kyle Long and outside linebacker Pernell McPhee were given the day off. Offensive lineman Michael Ola did not practice due to a strained knee.
Forte's absence gave Rodgers an opportunity to play with the No. 1 offense. The 5-6, 199-pounder signed with the Bears in March after spending his first four NFL seasons with the Atlanta Falcons.
"He's a guy that I've seen on tape in this league, competed against him," said coach John Fox. "He's a great teammate, a fine young man. He is built low to the ground. He does have power along with speed and quickness."
Fox enjoyed coaching at Soldier Field for the first time since being hired by the Bears in January.
"It felt great," Fox said. "I'm honored to be here. It's a storied franchise, one I'm very proud to be at. We've got great fans. It's a great stadium. It's a smaller venue. The people are right on you and I'm really excited about it.
"It was interesting, getting to the stadium today, driving my own car, not on the bus. It was a good trial run I think for everybody, some new players as well as a lot of the coaches."
After the Family Fest practice, Fox didn't seem worried about the offense's lackluster performance.
"This was a 36-play scrimmage," he said. "We've got four preseason games. We get a chance to look and evaluate and help us make 53-man decisions and hopefully getting better in all three phases."
Robbie Gould, the most accurate kicker in Bears history, missed several field goal attempts Saturday.
"It's early," Fox said. "We've got two snappers [in Thomas Gafford and Rick Lovato] that are new to our kicker. We're trying to evaluate those guys. It's not an excuse. It's just a reality. We're still early in the process. We're very confident in the job Robbie can do."
Rookie receiver Kevin White played catch on the sideline, but still has not practiced since training camp began due to a shin injury. Fox was asked what White will do Monday when the Bears return to practice in Bourbonnais after having Sunday off.
"I'll leave that to the medical people," Fox said. "Our trainer will make that decision. I'm not a doctor contrary to some records that might be out there. He's making progress. We've got a plan in place and he's going along with that plan. It's a cautious plan for obvious reasons."