The following is the sixth of nine position reviews of the 2013 season.*
The Bears defensive line was decimated by injuries at the tackle position in 2013 as Henry Melton and Nate Collins suffered torn ACLs and Stephen Paea was slowed by a toe problem.
Veteran tackle Sedrick Ellis, who signed with the Bears in June and could have provided some much needed depth, decided to retire before reporting to training camp.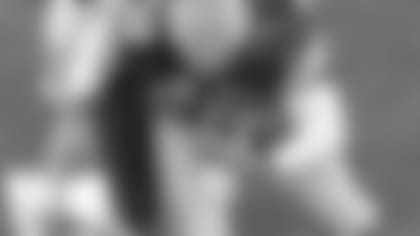 Shea McClellin was selected NFC defensive player of the week after recording three sacks in a Week 9 win in Green Bay.
"We had injuries; they are not an excuse," general manager Phil Emery said Jan. 2. "So for me, I have to look at, did we have enough depth to win football games? The answer is no. From a personnel perspective, from my perspective, I had not done enough to provide enough depth.
"The fact that we couldn't replace Sedrick, that's on me. We didn't have enough pass rush from the outside or the inside. We needed one more."
The Bears helped to fill the void by moving Corey Wootton from end to tackle. Although he was hampered by a sore hip that eventually required surgery, Wootton recorded 31 tackles, 4.5 tackles-for-loss, 12 quarterback pressures and 3.5 sacks.
"Corey was most disruptive as a pass rusher at d-tackle this year," Emery said.
Veteran Jeremiah Ratliff also contributed inside, registering 14.5 tackles, five quarterback pressures and 1.5 sacks after signing with the Bears Nov. 2.
At defensive end, veteran Julius Peppers had an up-and-down season. He led Bears linemen with 48.5 tackles, 19 quarterback pressures and 7.5 sacks while also recording four tackles-for-loss, one interception, two forced fumbles and one fumble recovery.
Peppers had monster games—he recorded 12 tackles and two sacks against the Ravens and 7.5 tackles and 2.5 sacks versus the Vikings. But he generated one tackle or fewer in eight contests.
"Julius had a lot of good games like a lot of our players, and he had games that he would want back, and I think Julius would say that, too," Emery said.
After mustering only seven tackles and 2.5 sacks in 14 games as a rookie, McClellin recorded 28 tackles and four sacks while appearing in 14 contests with 10 starts in 2013.
McClellin registered three of his four sacks in a Week 9 win over the Packers, knocking quarterback Aaron Rodgers out of action for seven weeks with a broken collarbone and earning NFC defensive player of the week honors. But that game was more the exception than the rule.
"When we needed a pass-rusher to step up, Shea contributed greatly in terms of our overall production," Emery said. "No matter how we shake out the stats as far as the importance of the person on the field to our pass rush, Shea was No. 1. But he did not have enough impact plays. Sacks are king and Shea did not have enough of those.
"What we have to do with Shea is find ways to use the unique talents and skills of the players that we have. Putting him at defensive end, that's on me, not giving him the ultimate opportunity to succeed. He produced in a positive way, but the overall impact of the last two seasons has not been at a high enough level."
Rookie defensive end David Bass showed promise while appearing in the last 12 games of the season. He compiled 20.5 tackles and returned an interception 24 yards for a touchdown in a Week 11 win over the Ravens.