GREEN BAY, Wis. – The Bears defensive line picked a perfect time to break out of a season-long slump, generating a slew of key plays in Monday night's 27-20 win over the Packers.
[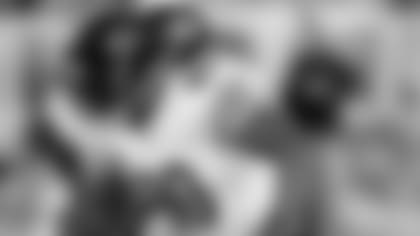 ](/multimedia/photo-gallery/Bears-at-Packers/7d365be6-0822-4fd9-b051-13f2b3eed540)

Julius Peppers and the Bears defensive line combined for five sacks against the Packers. Click to view photos from the game.
Entering the game with just 2.5 sacks between them, ends Shea McClellin (3), Julius Peppers (1) and Corey Wootton (1) combined for five sacks of Aaron Rodgers and Seneca Wallace.
"We definitely felt a lot of pressure, and we needed a game like this where we stepped up," McClellin said. "It was a team win."
After recording three sacks in his first 21 NFL games, McClellin matched that total Monday night.
"[McClellin] did a great job tonight, made some plays," Peppers said. "It's good to see him out there rushing, and hopefully he can carry that momentum for the rest of the season."
McClellin knocked Rodgers out of the game with a left shoulder injury on Green Bay's opening possession when he sacked the quarterback from behind.
"He likes to roll out to the right a lot," McClellin said. "We knew that coming in, and there was a pocket so I came back and got the sack.
"Rodgers is a great player and I wish him a speedy recovery. He's great for the game of football. Injuries happen. We have a lot of injuries on our team too. Next guy has to step up and adjust."
Peppers also had a monster game, intercepting a Wallace pass he had deflected into the air, recording his second sack of the season, and forcing a punt with a third-down pass deflection.
The Packers took over at their own 25 with :50 remaining and out of timeouts. After Wallace completed a 15-yard pass to Jordy Nelson, Wootton and McClellin sacked the Packers quarterback on back-to-back plays before time expired.
Catch this: Receiver Brandon Marshall caught seven passes for 107 yards including a 23-yard touchdown. Marshall now has three 100-yard games this season, 10 in two years with the Bears and 24 in his eight-year NFL career.
"He makes a difference for everybody because that is how good he is," said quarterback Josh McCown. "He makes a difference for anybody that is on the field. He is a special player."
Big decision: The gutsiest call in Marc Trestman's first season as Bears coach came late in the game when he kept the offense on the field on fourth-and-one from the Chicago 32.
The Bears were protecting a 24-20 lead at the time. Matt Forte picked up the first down with a three-yard run on a sweep to the left. Robbie Gould eventually capped the 18-play, 80-yard drive with a 27-yard field goal after the offense had burned 8:58 off the clock.
"I can't say that there was great analytical reasoning involved," Trestman said. "It was a sense that we needed to stay on the field and I felt that we could and that is what we did. I knew that one way or the other I wouldn't look back and regret the decision that was made."
Roster notes: In addition to quarterback Jay Cutler (groin) and linebacker Lance Briggs (shoulder), receiver Joe Anderson (abdomen) also sat out Monday night's game with an injury. Other Bears inactives were tackle/guard James Brown, tackle Jonathan Scott, defensive end Cornelius Washington and defensive tackle Zach Minter.