With Mike Tice taking over an offense that added Brandon Marshall and already featured Jay Cutler and Matt Forte, the Bears planned on scoring a slew of touchdowns this season.
They probably didn't expect their defense to generate five touchdowns in a three-game span, but Marshall, Cutler and Forte are among those who are very appreciative of the effort.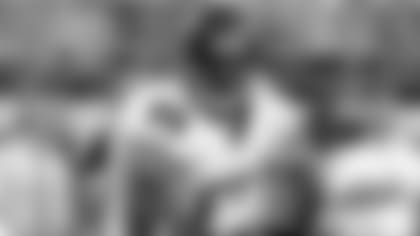 Bears linebacker Lance Briggs has returned an interception for a touchdown in each of the last two games.
"It makes my job easy," Cutler said. "They are scoring points at the same rate as we are. We just have to take care of the ball, try to convert on third downs, keep them off the field a little bit and let them get a little bit of a break. The way they are playing, offensively it gives us a little bit of time to work through some kinks and figure it out."

The Bears have become the first team in NFL history to score five defensive touchdowns in the first five games of a season, while Charles Tillman and Lance Briggs have become the first teammates in league history to return interceptions for TDs in back-to-back games.

"It lets us as an offense be patient," Forte said. "If the defense is playing that well where they're getting three-and-outs or as many turnovers as they're getting, we can be patient and try to move the ball down the field methodically and then get points on the board instead of trying to get a big play here and a big play here and pressing to get that big play."

While scoring five touchdowns to fuel a three-game winning streak, the Bears defense has only allowed two TDs in victories over the Rams, Cowboys and Jaguars.

"We would love to be the No. 1 offense in the league," Marshall said. "We would love to throw for 5,000 yards. We would love to have Matt run for 2,000 yards, control the ball, be 70 percent on third down. But we don't have to be that way when we have an amazing defense like that.

"We need to play off each other. When our defense does an amazing job giving us field position, just take advantage of it. When they're making amazing plays, it might be time for us to run the clock out a little bit. We're definitely playing off of each other right now."

Aches and pains: All three Bears who missed practice Friday are expected to play Monday night against the Lions. Middle linebacker Brian Urlacher and defensive end Julius Peppers rested, while receiver Earl Bennett was sick. Bennett likely will work out Saturday.

The only Bears player who has been ruled out of Monday night's game is rookie receiver Alshon Jeffery (hand). Receiver Devin Hester (quad), linebacker Blake Costanzo (thumb) and cornerback Sherrick McManis (hip) were limited Friday.

For the Lions, cornerback Jacob Lacey (concussion) did not practice; while defensive end Cliff Avril (back), cornerback Bill Bentley (shoulder), safety Louis Delmas (knee), tight end Brandon Pettigrew (knee), linebacker Stephen Tulloch (knee), defensive tackle Corey Williams (knee) and receiver Titus Young (knee) were limited.

A fine line: The Bears' 37-13 victory over the Lions last season at Soldier Field was chippy, intensifying the rivalry between the longtime division foes.

Detroit's starting defensive tackles were both involved as Ndamukong Suh ripped Jay Cutler's helmet off on a scramble and Nick Fairley drew a 15-yard penalty for a late hit on the quarterback. A confrontation between D.J. Moore and Lions quarterback Matthew Stafford led to a melee between the teams and the ejection of the Bears nickel back.

In preparation for Monday night's rematch, the Bears know they must play aggressively without drawing costly penalties for retaliating.

"We talk about what it takes to win a game," said defensive coordinator Rod Marinelli. "It takes discipline and it takes playing really, really hard and really smart. Hard and smart work together. Do the things it takes to win the game and execute our style of defense."

Good hands people: After being told that Urlacher and Briggs both claimed to have better hands while joking with reporters Friday, coach Lovie Smith wasn't about to end the debate.

"They both have excellent hands," Smith said. "That's something else that you don't normally find in a linebacker. That's the reason why they're playing linebacker and they're not on the other side of the ball. But both of those guys have excellent hands, and Nick Roach too. And of course all of our guys on the back end can catch the ball."

For the record, Urlacher has 21 interceptions in 175 career games (one every 8.3 games), while Briggs has 15 picks in 145 contests (one every 9.7 games).