Sitting in the Halas Hall cafeteria with a couple teammates, Quintin Demps powers up his iPad after finishing his lunch and watches video of the Bears defense.
Although the veteran safety is entering his 10th NFL season, he understands the importance of studying like an unproven rookie, never wasting a moment of preparation.
That approach is especially important this offseason as Demps learns a new scheme with the Bears, who signed the unrestricted free agent March 10 to help solidify their young secondary.
"It's my 10th year, so it's more about the terminology for me," Demps said. "At this point right now football is football. It's cover three, cover one, cover four. It's about the terminology, but I've been studying pretty hard, so I feel comfortable."
Demps brings a far different attitude to the Bears than the one he carried into the NFL when he was selected by the Eagles in the fourth round of the 2008 draft out of UTEP.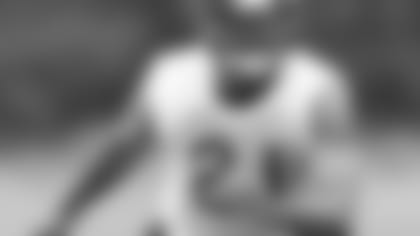 Quintin Demps was selected by the Eagles in the fourth round of the 2008 draft out of UTEP.


"I was so cocky," Demps said. "I had some turbulence in my career because of my cockiness. I was talking to the media crazy like I had done something and all this kind of stuff. [Then-Eagles coach] Andy Reid hated that. I didn't stand a chance being that cocky."
At one point early in his career, a brash Demps complained to the media about having to play in the final preseason game, a contest that typically features few if any regular contributors.
That type of attitude led to an unceremonious exit from Philadelphia as the Eagles waived Demps as part of final cuts in 2010. He spent the next eight weeks without a job before signing with the Hartford Colonials in the United Football League.
Demps played two games with the Colonials before rejoining the NFL with the Texans late in the 2010 season. He was then waived for the second time in as many years prior to the 2011 season by Houston but re-signed with the Texans in late October.
Despite being back in the NFL, the rocky start to his career was disconcerting and unnerving for Demps, who never expected to be cut twice and play two games in the United Football League in his first four years as a pro.
"It definitely humbled me," Demps said. "But just like with life, you learn and you don't repeat the same mistakes. I learned from it and it shaped me and made me who I am today."
Who Demps is today is a productive playmaking safety with a nose for the football—something the Bears have lacked since Mike Brown patrolled their secondary a decade ago.
Demps has recorded 15 of his 18 career interceptions the past four seasons, including a personal-high six picks last year during a second stint with the Texans. The Bears, by comparison, mustered only eight interceptions as a team in 2016.
The Bears are counting on Demps to not only take the ball away but provide leadership at a young safety position that features 2016 draft picks Deon Bush, Deiondre' Hall and DeAndre Houston-Carson and 2017 selection Eddie Jackson.
"He's a great leader," Bush said of Demps. "He's been around for so long he knows everything and he's trying to help all of us. He's trying to give us tips here and there and he leads by example. He's always ready to share info and he's always trying to help us like an older-brother type."
Demps is eager and excited about serving as a mentor to his young teammates.
"I love it. I think it really fits me," he said. "Playing a lot of football, I learned from the guys who led me—Brian Dawkins, Quintin Mikell, guys like that. That's just who I am, especially when the helmet goes on. I'm a leader that way. It's just natural for me."