Bears general manager Ryan Pace generally believes in signing free agents who are ascending players under the age of 28. But he also knows the importance of deviating from that philosophy on occasion.
Seven of the eight free agents the Bears have signed from other teams since last Thursday are 26 or 27 years old. The lone exception is Quintin Demps, a 31-year-old ball-hawking safety.
"Sprinkling in a couple vets here and there I think sometimes can be good," Pace said.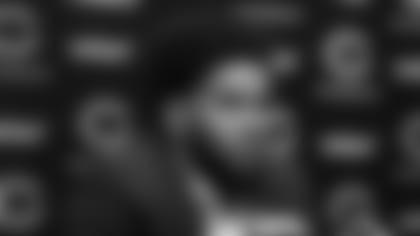 Quintin Demps has recorded 15 of his 18 career interceptions in the past four seasons.


The Bears are counting on Demps to bring leadership and playmaking ability to their young secondary. A late bloomer who was selected by the Eagles in the fourth round of the 2008 draft, he didn't make his first start until his sixth NFL season in 2013 with the Chiefs.
Demps has recorded 15 of his 18 career interceptions the past four years, including six in 13 games last season with the Texans. His ball skills have been evident since his college days when he registered 17 career interceptions at UTEP, the second most in school history.
"He's one of those guys, going all the way back to UTEP, he's just always around the football," Pace said. "I think, too, for kind of a younger secondary, to have him in the mix [he'll be] kind of a calming presence, a veteran presence. I think he's going to provide that, which will be good."
Demps has shown no signs of slowing down and doesn't intend to this season with the Bears.
"I think age is just a number, man, I really do," he said. "I'll be 32 in June, but the tape might have said I was 25, which is the most important thing. I don't really focus on that too much. I know what I bring to the table and we'll see if I can play, like Charles Woodson, until I'm 38."
Demps acknowledges that it takes more time and effort to keep playing at a high level into his 30s.
"Of course you're getting older," he said. "But if you take care of your body—if you eat right, get massages, get acupuncture—you can last however long you want to last."
Demps struggled to establish himself as a regular contributor early in his career. He was waived just before his third season with the Eagles in 2010 and signed with the Hartford Colonials of the United Football League. He eventually finished the year with the Texans, but he was released again prior to the 2011 season before rejoining Houston later in the year.
"It got tough at times, getting cut twice and those types of things," Demps said. "But you've got to stay the course. You've got to keep pressing forward and that's what I [pride] myself on.
"I thought about quitting a couple times just because of the adversity. I knew I wasn't going to quit though. Even though it felt like that, I knew I couldn't quit. You handle it by being positive, by taking it one day at a time and just realizing the big picture of life. If you're able to walk and breathe the next day, just get up and press forward."
Demps finally emerged as a playmaker the past two seasons in Houston, something he attributes to approaching the game with a different mentality.
"I think I got to a place in my career where it was just more so like I was on a mission to get some respect," he said. "Once that clicked, man, it was game time."
After generating a franchise-low 11 takeaways in 2016, the Bears are hoping that Demps helps them increase that total moving forward. Asked about the key to producing interceptions, he said: "Just your eyes, and you have to be patient. You have to be disciplined. You have to let it come to you. You can't force it because then you're going to give up something."
In terms of the entire unit creating more takeaways, Demps said: "I think that starts on the back end with communication, making sure we're all on the same page, and then it's making sure we catch the ones that they throw us. A lot of times we drop those picks back there, so we have to work that with our hands and things like that."