The only way Brett Hill would have had a better time during the NFL Draft is if he would have actually been selected by his beloved Chicago Bears.
As the grand prize winner of the Ultimate Draft Experience on ChicagoBears.com, the 45-year-old from Shippensburg, Pa., won a trip for two to the draft at Radio City Music Hall in New York City April 25-27 along with the chance to announce the Bears' fourth-round pick.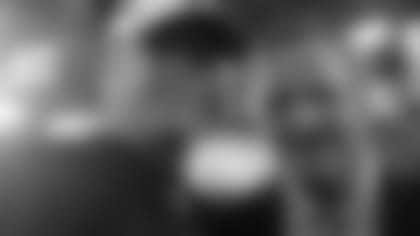 Avid Bears fan Brett Hill poses with Commissioner Roger Goodell at the NFL Draft in New York City.
"It was awesome," said Hill, who was accompanied by his girlfriend, Lisa Michajluk. "We got to go back stage where the college guys were waiting to get the call. What was really cool was that we actually got to sit with the families of the players who were being drafted.

"The entire experience was pretty incredible. I thought we'd be able to do a little more than the common fan, but it went above and beyond that. It exceeded my expectations."

Although Hill has never lived in the Chicago area, he started following the Bears as a boy because his dad was a fan of the team. Hill describes himself as a "quintessential fan 365 days a year" who constantly monitors ChicagoBears.com and various media outlets for the latest Bears news.

As he prepared to announce the Bears' fourth-round pick, Hill was more concerned about who his favorite team was going to pick than pronouncing the name without a hitch.

"I'm an over-the-top Bears fan, so I was more nervous that we were going to pick the right guy," Hill said. "I wanted the team to do the right thing. I wasn't nervous about making the announcement. I just wanted it to be somebody that was going to get us to the Super Bowl."

The Bears' fourth-round pick turned out to be Rutgers linebacker Khaseem Greene, who will be forever linked with Hill, at least as long as the avid fan is concerned.

"I already told my girlfriend I want his jersey," Hill said.

Hill had such a great time that he intends to return to the draft next spring, even without all of the perks he earned as the winner of the Bears' Ultimate Draft Experience.

"It was incredible and I've already said we're going back next year," Hill said. "I want to go every year just to experience the whole thing. It was awesome."