Cody Whitehair arrived at training camp last July as a rookie guard determined to prove himself. This summer he returns as an established starter at a position he never played in college.
The 2016 second-round pick from Kansas State was named to the NFL All-Rookie Team last year after starting all 16 games at center. He was switched to that position about a week before the start of the regular season after the Bears lost center Hroniss Grasu to a torn ACL and signed Pro Bowl guard Josh Sitton.
"I was talking to the guys about it, how much easier it is in Year 2 from Year 1," Whitehair said Saturday in Bourbonnais. "You've seen a little bit more, so that transitions over to Year 2."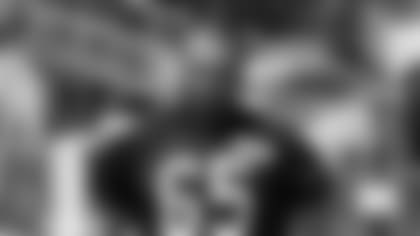 Bears center Cody Whitehair walks off the practice field in Bourbonnais.


One of the toughest challenges Whitehair faced last year was contending with the grind of an NFL season.
"They say 'the rookie wall,' and obviously you know this season's a little bit longer than college," he said. "It's real. It hits you about Week 12, but that's something I've told the rookies. It's a real thing. You're going to hit it. But it's a matter of how you grind through it."
Asked how he got past the rookie wall, Whitehair said: "I just leaned on the older guys. Playing helping a little bit, too, week-to-week to try to focus on a different opponent each week as well."
Whitehair's focus entering his second season is on improving his footwork. It's something he continued to work on during the time between the end of the offseason program and the beginning of training camp.
"Those five weeks can either hurt you or help you," Whitehair said. "If you don't work your feet, as big guys we can tend to get a little bit slower, so that's what I wanted to do is work my feet in the offseason."
Reliable guy: After leading the Bears last season with 66 receptions for 888 yards and four touchdowns, Cameron Meredith considers himself a go-to receiver.
"When I go out there and play I want to go out there and make every catch," Meredith said. "I want to be a reliable guy. Last year I was able to go out there and do that and showcase my talents. Going in this year, that's another focus."
Meredith joined the Bears in 2015 as an undrafted free agent from Illinois State. After having to fight for a roster spot in each of his first two seasons, he enters this year as an established player. But that won't change his mentality in training camp.
"I've still got to go out there and make plays," Meredith said. "I'm never one to settle for something. So I've got to continue to get better and continue to work hard and the rest will take care of itself."
A day at camp: The Bears conducted their first padded practice Saturday in front of a large crowd in Bourbonnais. "I thought it was a great turnout," said coach John Fox. "Fans, coming off a 3-13 season, you wouldn't know it. We've got great fans. Great enthusiasm out there."
Guard Kyle Long, who is rebounding from a broken ankle, did not practice. "He had a little soreness," Fox said. "We're going to take him day-to-day. Whatever the medical people deem best for him. No setback, just some soreness. He hasn't been in cleats since last season. We won't put a lot of pressure on that foot until we have to. Again, the target day is Sept. 10."
The highlight of Saturday's practice was a long completion from quarterback Mark Sanchez to receiver Deonte Thompson, who shook off two defenders to make the catch. Cornerbacks Cre'Von LeBlanc and B.W. Webb both made nice plays in one-on-one drills. In team work, safety Quintin Demps made a leaping interception and Meredith snatched a pass away from linebacker Jerrell Freeman.
Moving up: The Bears on Saturday announced the promotions of Champ Kelly from director of pro scouting to assistant director of player personnel, Chris White from pro scouting coordinator to pro scout, Scott Hamel from combine scout to area scout and Brendan Rehor from scouting assistant to combine scout.
Kelly joined the Bears in 2015. Prior to his arrival, Kelly held several roles in the Broncos front office for eight-plus seasons from 2007-15 and was part of four AFC West title teams.