Marc Trestman didn't just talk about Bears history after becoming the franchise's 14th head coach in January; he embraced it by contacting legendary Hall of Famer Mike Ditka.
[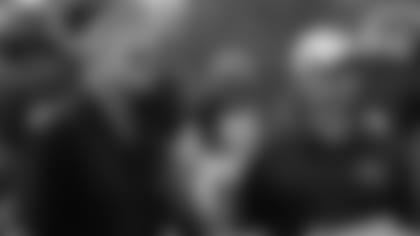 ](http://www.chicagobears.com/multimedia/photo-gallery/Mike-Ditka/df0b23c9-f4e4-447e-b76a-37b3d9843c44)

Click to view photos from Mike Ditka's legendary career as both a player and a coach with the Bears.
"I reached out to coach Ditka when I got the job," Trestman said. "I felt that that was a great place to start; somebody who knew as much about the Bears and the traditions of the Bears as he does."
The current and former coaches recently went out to dinner, and on Tuesday Ditka was Trestman's guest at Halas Hall, where "Da Coach" toured the newly-renovated facility and watched practice.
"The idea was for him to come by and see Halas Hall and the new facility and spend some time with our players and say hello to them and he graciously agreed to do that and we certainly appreciate the fact that he came out here today to be with us," Trestman said.
Ditka spoke to Bears players, imploring them to play for one another and bond like brothers.
"His message was a great one," Trestman said. "It's about the relationships you have with your teammates. It's about the camaraderie. It's about the locker room. The money is the least significant portion of it."
"It was good," said quarterback Jay Cutler. "He echoed a lot of the same things that Marc says every day. I think there is a common thread between guys that have been there and done it and won championships and know what it is all about-enjoying the game, respecting your teammates, taking advantage of each and every day. That is what Marc tells us. That is what a lot of the great ones tell us. That is what coach Ditka said as well."
Ditka revolutionized the tight end position during a Hall of Fame career with the Bears. The fifth overall pick in the 1961 draft, he was voted to five Pro Bowls in six seasons and helped lead the team to an NFL championship in 1963.
Ditka later became Bears head coach in 1982 and guided the franchise to its first Super Bowl championship. He is the only individual in the NFL's modern era to win a league title with the same team as both a player and head coach.
On Dec. 9, the Bears will honor Ditka by retiring his No. 89 jersey at halftime of a Monday night game against the Dallas Cowboys at Soldier Field. While the Bears boast 27 Hall of Famers, Ditka will become only the 14th player to have his number retired by the organization.
"Anytime you can bring history, an alumni of a team, especially someone like Mike Ditka, it really brings the player back, the coach back, ourselves-I'm saying us in the building-back to the reality of what's going on," said offensive coordinator Aaron Kromer. "That this is the Chicago Bears. This is the greatest city on Earth, and that's what he spoke about. And we needed to hear it from someone like Mike Ditka."