The following is the third of eight position previews in advance of the May 8-10 NFL Draft:*
Most NFL analysts agree that the deepest position group in this year's draft is wide receiver, with as many as eight wideouts possibly being picked in the first round.
The consensus top prospect is Sammy Watkins, a speedster who demonstrated elite game-breaking ability during three seasons at Clemson. He became just the fourth true freshman in NCAA history to be named first-team All-America, joining Herschel Walker, Marshall Faulk and Adrian Peterson.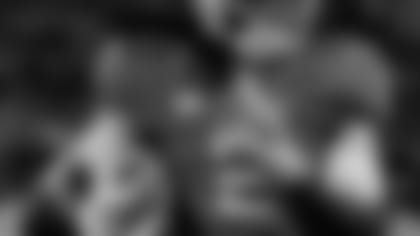 Sammy Watkins
Last season Watkins caught 101 passes for 1,464 yards and 12 touchdowns, including 16 receptions for 227 yards and two TDs in a 40-35 win over Ohio State in the Orange Bowl. In his 2014 NFL Draft Preview, Nolan Nawrocki writes that the 6-1, 211-pounder "possesses the rare speed, soft hands and the big-play ability to challenge NFL defensive backs as a rookie."
Another top-10 prospect is Mike Evans, who teamed with quarterback Johnny Manziel the past two seasons at Texas A&M. The 6-5, 231-pounder caught 82 passes for 1,105 yards and five touchdowns in 2012 and 69 passes for 1,394 yards and 12 TDs in 2013.
Nawrocki describes Evans as a "big, physical, strong-handed, West Coast possession receiver with playmaking ability who projects as a No. 2 in the pros where he will make his money as a chain mover and red-zone target."
ESPN analysts Mel Kiper Jr. and Todd McShay both predict that Watkins will be selected by the Jaguars with the third pick in the draft and Evans will be chosen by the Buccaneers at No. 7.
Other receivers expected to garner first-round consideration include Florida State's Kelvin Benjamin, LSU's Odell Beckham, Oregon State's Brandin Cooks, Indiana's Cody Latimer and USC's Marqise Lee.  
Benjamin had 54 receptions for 1,011 and an ACC-leading 15 touchdowns for the Seminoles last season as a junior, including the game-winner in the BCS Championship Game. The 6-5, 240-pounder possesses rare size, strength and body control.
Kiper describes Benjamin as "still more of a physical talent than a refined football player" as well as a wide receiver in a tight end's body who can cause match-up problems.
Beckham started in all three of his seasons at LSU. Last year as a junior he won the Paul Hornung Award as the nation's most versatile player after setting a school record with 2,315 all-purpose yards. The 5-11, 198-pounder caught 59 passes for 1,152 yards and eight touchdowns while averaging 26.4 yards on 32 kickoff returns and 8.9 yards on 18 punt returns.
Kiper ranks Beckham as the 13th best prospect in the draft, writing that he's an "explosive runner with short-area quickness and an ability to create space but also make plays in traffic."
A two-year starter at Oregon State, Cooks won the Biletnikoff Award as the nation's best receiver in 2013 after he set Pac-10 records and led the FBS with 128 receptions and 1,730 yards. The 5-10, 189-pounder caught 16 TD passes and also rushed for 217 yards and 2 TDs on 32 carries.
Nawrocki describes Cooks as a "short, speedy, nifty-footed receiver" who "projects as a useful slot receiver with run-after-catch ability and some utility as an outside receiver."
Also a two-year starter at Indiana, Latimer caught 72 passes for 1,096 yards and nine touchdowns last season. The 6-2½, 215-pounder possesses excellent size, strength and blocking ability.
Nawrocki describes the former high school basketball star as a "well-built, sure-handed, West Coast possession receiver whose hardwood background is evident in his leaping ability, body control and hand-eye coordination."
Lee was an ultra-productive three-year starter at USC. As a sophomore in 2012, he won the Biletnikoff Award and was named Pac-12 offensive player of the year after catching 118 passes for 1,721 yards and 14 TDs. In 2013, the 6-foot, 192-pounder had 57 receptions for 791 yards and four TDs while missing three games due to injuries.
Kiper and McShay both predict that Lee will be selected by the Chiefs with the 23rd pick in the first round.