Last season Alshon Jeffery teamed with mentor Brandon Marshall to give the Bears arguably the NFL's top receiver tandem. But the third-year pro isn't spending too much time reminiscing.
"What we did last year was last year," Jeffery said after an OTA practice this week at Halas Hall. "Every year we've got to go out and prove ourselves."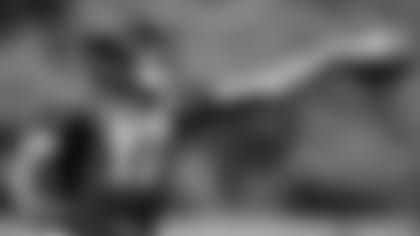 Bears Pro Bowl receiver Alshon Jeffery makes a one-handed catch during an OTA practice.
Last year Jeffery (1,421) and Marshall (1,295) became the first Bears receivers to each top 1,100 yards in a season. In combining for 2,716 yards, they finished just two yards behind the Broncos' Demaryius Thomas and Eric Decker for the most by two teammates in the NFL.
Marshall and Jeffery became the first receivers in Bears history to both be selected to the Pro Bowl in the same year. A total of only two Bears receivers had been voted to the all-star game over the previous 41 seasons—Marty Booker in 2002 and Marshall in 2012.
"I know we want to be the best," Jeffery said. "Every year we want to be the greatest receiving corps in the league, not just me and Brandon but we want the other guys to come along, too, with Martellus [Bennett], Matt Forte, everybody, the whole offense. It's not us; it's the whole team."
After setting Bears records and career highs with 118 receptions and 1,508 yards in 2012, Marshall became the team's first player with multiple 100-catch seasons in 2013. In two years in Chicago, he ranks second in the NFL with 218 receptions, fourth with 2,803 yards and fifth with 23 TDs.
After catching 24 passes for 367 yards and three TDs in 10 games as a rookie in 2012, Jeffery had a breakout 2013 season. He ranked sixth in the NFL among receivers with 1,421 yards, the second most in franchise history, and was 10th with 89 receptions, the sixth most ever by a Bears player.
Jeffery recorded the two most prolific receiving games in Bears history in 2013 with 249 yards against the Vikings and 218 yards versus the Saints. The previous single-game record of 214 yards by Harlon Hill had stood since 1954. In the process, Jeffery became one of only eight players in NFL history to produce two 200-yard games in the same season.