With only one football and a multitude of talented pass catchers on a revamped Bears offense, Earl Bennett hasn't had a whole lot of opportunities to contribute early in the season.
But that didn't stop the sixth-year receiver from responding when called upon Sunday night at Heinz Field with a spectacular touchdown catch. Bennett's 17-yard grab from Jay Cutler early in the fourth quarter gave the Bears a 34-23 lead en route to a 40-23 win over the Steelers. It came after Pittsburgh had scored 13 unanswered points to close the gap from 27-10 to 27-23.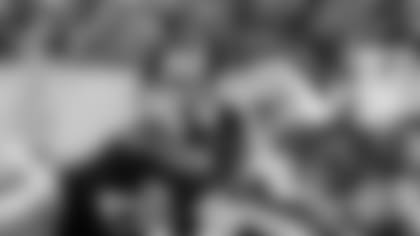 Earl Bennett's 17-yard TD catch Sunday night came after the Steelers had closed the gap to 27-23.
The pass was initially ruled incomplete. But after replays showed Bennett dragging the toes on his second foot just inside the sideline, Bears coach Marc Trestman challenged the call and referee Pete Morelli reversed it following a review.

"It was good to see Earl finally get that touchdown," said fellow receiver Brandon Marshall. "We had a word [Sunday] in chapel and it was about selflessness and Earl epitomized that.

"You see a guy take a pay cut and you see a guy who is really a great receiver and he's not getting the ball a lot. For him to keep his head in the game and make that play for us, it's special. It says a lot about his character."

Bennett's first touchdown of the season came on his second catch of the game and fifth of the year. He ranks fifth on the Bears in receptions behind Marshall (20), running back Matt Forte (18), receiver Alshon Jeffery (13) and tight end Martellus Bennett (12).

"Everybody's going to get their opportunity," Bennett said. "When it comes, you've just got to take advantage of it. Maybe it's one ball this week, maybe seven the next week. You never know who the guy's going to be. In Week 1 it was Brandon; in Week 2, Martellus. In Week 3, Alshon had a lot of big catches. We've just got to stay ready."

First-year coach Marc Trestman has been impressed with Bennett's attitude and approach.

"He's a consummate professional and one of the highest character guys we have in our locker room," Trestman said. "Anybody who knows him, they will say that. He's selfless, completely unselfish and will do whatever he can to help this football team.
"He's always where he should be, lines up where he should be, runs the routes the way he should run them. He's a tremendous technician. He's a tremendous asset to our football team. I think Brandon said it right; he's just a very unselfish guy who's all about team."
Bennett understands his role on offense and won't complain about not getting the ball.
"The biggest thing for me is to be selfless," he said. "I'm going to do whatever it is the team needs me to do. Whether it's go out and field punts, go out and make tackles on kickoffs or catch 120 balls, whatever the team needs me to do, that's what I'm here for."
Roster moves: The Bears on Tuesday made four practice-squad moves, signing defensive end Cheta Ozougwu and tackle Roger Gaines and terminating the contracts of quarterback Jerrod Johnson and tackle Jamaal Johnson-Webb.
Ozougwu appeared in two games for the Bears last season, recording three tackles and one tackle-for-loss. He was with the team throughout the offseason before being waived Sept. 1. Gaines entered the NFL this season with the Ravens as an undrafted rookie from Tennessee State.