The following is the fourth of eight position previews in advance of the May 8-10 NFL Draft:*
Most NFL analysts are predicting that North Carolina's Eric Ebron will be the only tight end selected in the first round of the draft.
The 6-4, 250-pounder blossomed as a sophomore in 2012, catching 40 passes for 625 yards and four touchdowns while starting 11 of 12 games for the Tar Heels. Last season Ebron was named first-team All-ACC after recording 62 receptions for 973 yards and three TDs.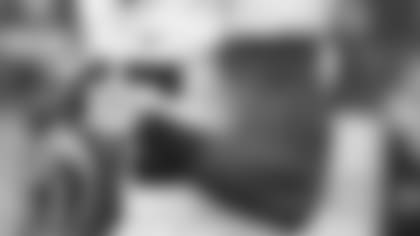 Eric Ebron
In his 2014 Draft Preview, Nolan Nawrocki describes Ebron as a "highly athletic, highly productive 'F' tight end loaded with upside and mismatch capability" who "possesses the speed, movement skills, hands and run-after-catch skills to emerge as a playmaking weapon in the pros, though [he] has to continue developing as a blocker."
ESPN's Todd McShay predicts that Ebron will be selected by the Lions with the 10th pick in the draft, while ESPN's Mel Kiper Jr. thinks that Ebron will be picked by the Ravens at No. 17.
NFL.com's Mike Mayock ranks Ebron as the top tight end in the draft, followed by Texas Tech's Jace Amaro, Washington's Austin Seferian-Jenkins, Notre Dame's Troy Niklas and Iowa's C.J. Fiedorowicz.
Amaro set an FBS record for receiving yards by a tight end last season with 1,352 on 106 catches, though he was utilized mostly as an inside receiver. He missed six games in 2012 after suffering a lacerated spleen, fractured rib and internal bleeding in a contest against West Virginia.
Nawrocki describes the 6-5, 265-pounder as a prospect who possesses "excellent size with a well-proportioned frame and room for added bulk" who "releases cleanly into routes" but who "does not show the functional strength and body power to match up with NFL defensive linemen" and "labored to catch the ball at the combine and really struggled to consistently haul it in."
Seferian-Jenkins won the Mackey Award last season as the nation's best tight end after catching 36 passes for 450 yards and eight TDs. The 6-5, 262-pounder, who also played on Washington's basketball team as a freshman, established school career records for most receptions (146), yards (1,840) and TDs (21) by a tight end.
Nawrocki labels Seferian-Jenkins as "an intriguing height-weight speed prospect" who "has all the tools to be a legitimate No. 1 tight end in the NFL, though he has to maintain focus and consistency and continue improving as a blocker."
Niklas, who is a nephew of Hall of Famer Bruce Matthews, switched from linebacker to tight end in 2012. Last season the 6-6, 270-pounder caught 32 passes for 498 yards and five TDs.
According to CBS Sports' Rob Rang, Niklas "isn't going to wow you with his agility or straight-line speed" but "in just two seasons at the position he is already among the classes' most reliable blockers and is an effective underneath target" who compares to Chiefs tight end Anthony Fasano, also a Notre Dame product.
A two-year starter at Iowa, Fiedorowicz caught 45 passes for 433 yards and one touchdown in 2012 as a junior and 30 passes for 299 yards and 6 TDs last season as a senior.
Nawrocki sees the 6-5, 265-pounder as a "big-framed, linear and dependable" prospect who "looks the part and has balanced skills to be a legitimate 'Y' tight end in the pros."