The following is the sixth of eight position previews in advance of this week's NFL Draft.
Most NFL analysts agree that the top four defensive linemen in the draft are (in alphabetical order) BYU end Ezekiel "Ziggy" Ansah, Florida tackle Sharrif Floyd, Utah tackle Star Lotulelei and Missouri tackle Sheldon Richardson.
Ansah is a raw prospect whose stock has skyrocketed since an impressive showing at the Senior Bowl. The 6-5, 271-pounder ran track at BYU as a freshman before joining the football team as a sophomore. He appeared in 31 games with only nine starts, all as a senior.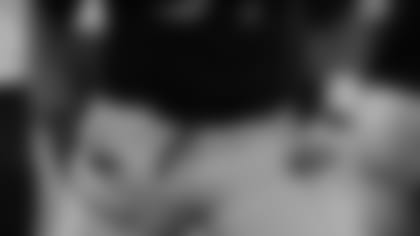 Missouri's Sheldon Richardson possesses excellent speed and athleticism at tackle.
Ansah blossomed last season, registering 62 tackles, 13 tackles-for-loss, 4.5 sacks, one interception and one forced fumble. He was named the Senior Bowl's most outstanding player after recording seven tackles, 3.5 tackles-for-loss and 1.5 sacks while also forcing a fumble.
ESPN's Mel Kiper Jr., who predicts that Ansah will be selected by the Jaguars with the second overall pick, believes that the team that chooses the BYU end will be "betting on his ceiling."
"Ansah is a track star in a 271-pound frame, a guy who blazed the 40 and shows solid punch at the point of attack," Kiper writes. "However, a lot of value is in that burst, the ability to jolt a [blocker] with that initial blow, because his hand-use, pass-rushing moves and leverage all need work."
Floyd was a two-year starter and three-year contributor at Florida, where he compiled 115 tackles, 27.5 tackles-for-loss and 4.5 sacks while appearing in 37 games with 26 starts.
The 6-3, 297-pounder moved from end to tackle last season, when he registered 46 tackles, 13 tackles-for-loss and three sacks while also blocking two kicks.
Pro Football Weekly's 2013 Draft Preview describes Floyd as an "explosive, athletic, penetrating three-technique with Pro Bowl potential" who "is most effective attacking with an angle and shooting gaps."
Kiper feels that Floyd, who has yet to turn 21, can play in either a 4-3 or 3-4 scheme, writing that while "several teams have expressed concern on his short arms and his ceiling as a pass-rusher ... he matches exceptional power and leverage with strong hands and enough athleticism to be tough on even good tackles."
Lotulelei was a two-year starter and three-year contributor at BYU, where he recorded 107 tackles, 21.5 tackles-for-loss, seven sacks, four forced fumbles and five fumble recoveries in 37 games.
The 6-2½, 311-pounder was held out of workouts at the NFL Scouting Combine in February after doctors discovered a heart condition. But he was cleared to participate in his Pro Day at Utah.
PFW describes Lotulelei as "a powerfully built, nimble giant with the ability to impose his will at any position" who "leaves you wanting more but dominates in flashes and could be just scratching the surface."
Richardson transferred to Missouri after two seasons at the College of the Sequoias in California. The 6-2½, 294-pounder started all 11 games last year, registering 75 tackles, 10.5 tackles-for-loss, four sacks, three forced fumbles and two fumble recoveries.
PFW labels Richardson as "one of the most physically gifted prospects in the draft" who is a "quick-twitch, highly athletic, competitive, instinctive, disruptive three-technique with dominant potential." The publication predicts that he possesses "an elite combination of athleticism and passion for the game to make a Warren Sapp-like impact as a devastating penetrator and double-digit sack artist."
Other top defensive linemen in the draft include SMU end Markus Hunt, Georgia tackle John Jenkins, UCLA end Datone Jones, Purdue tackle Kawann Short, Florida State end Bjoern Werner and North Carolina tackle Sylvester Williams.