Sedrick Ellis didn't complete his physical in time to participate in Wednesday's minicamp practice, but the veteran defensive tackle can't wait to step onto the field with the Bears.
After excelling in a similar scheme earlier in his career with the New Orleans Saints, the 6-1, 307-pounder sees himself as a perfect fit in the Bears' aggressive 4-3 defense.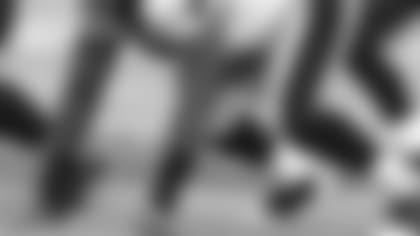 Defensive tackle Sedrick Ellis started 70 games over five seasons with the New Orleans Saints.
"Everybody knows what kind of defense that Chicago plays and the tempo that they play at, so I'm just glad to be a part of it," said Ellis, who agreed to a one-year contract on Tuesday.

"They allow their guys to do what defensive linemen are supposed to do, and that's rush the passer and get sacks and put pressure on the quarterback while playing the run on the way. I'm excited to be a part of a scheme that entails that. I haven't had the chance to do that the last couple years, so I'm excited about that."

Ellis spent his first five NFL seasons with the Saints after being selected by New Orleans with the seventh overall pick in the 2008 draft out of USC.

After recording 12 sacks in 39 games over his first three seasons, Ellis was utilized differently the past two years and mustered only half a sack in 31 contests.

"The first three years went pretty well," he said. "We had some coaching changes and some scheme changes as far as defense and there was kind of like a little rotation of defensive coordinators that came in for a little bit. I believe the last two years the schemes that were played didn't quite suit my talents and I think that showed in production."

Ellis is confident that his numbers will improve this season with the Bears.

"I'm almost guaranteeing that ... because this is the style of defense that caters to defensive linemen getting up the field and playing fast, which is what I got drafted for in '08," Ellis said. "The last couple years I haven't been able to do that as much, but now I have my chance."

Ellis joins a defensive tackle group with the Bears that includes veterans Henry Melton, Stephen Paea, Nate Collins and Corvey Irvin, and rookies Zach Minter, Brent Russell and Christian Tupou.

"[Ellis] gives us certainly more than needed depth inside playing the three technique," said coach Marc Trestman. "It will allow for us to grow and have more competition. We've created even a more competitive environment on our football team with his addition, and just talking to him, he's ready to go and to improve his career."

Ellis is expected to line up at the three-technique position, but he also has experience at nose tackle.

"He's a veteran player," said defensive coordinator Mel Tucker. "He's got versatility. We feel that he can give us some stoutness inside and also give us some rush inside. He'll have an opportunity to come here and prove what he can do and compete, and that's what we're looking for."