The Bears upgraded their roster with several key acquisitions during a productive offseason. But first-year general manager Phil Emery knows that NFL championships aren't won in the spring and summer.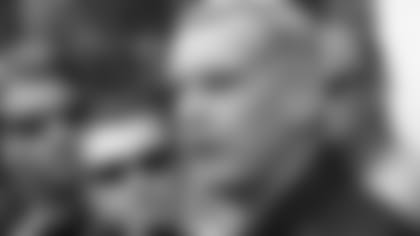 Bears general manager Phil Emery speaks to the media Tuesday at training camp.
"I think we've made progress. But to say [we're] a Super Bowl contender, it has to be earned on the field," Emery said Tuesday as the Bears kicked off training camp in Bourbonnais.

"Do we have good, talented players that can contribute towards a winning team and moving towards our goals to win a championship? Yes, we do. Are we there? No, we're not. We have to earn that every day on the field."

During the offseason the Bears traded for Pro Bowl receiver Brandon Marshall; signed running back Michael Bush, quarterback Jason Campbell and cornerback Kelvin Hayden; and selected defensive end Shea McClellin and receiver Alshon Jeffery with their first two picks in the draft.

In his first offseason as general manager, Emery was determined to surround quarterback Jay Cutler with more weapons.

"Jay is a cornerstone player of our franchise," Emery said. "We want to build around Jay. I feel very good about his talent level and his ability, and his traits to lead us to championships. So definitely we wanted to bring weapons around him and that led to some of the situations that we did move forward on."

Another significant move was the signing of Matt Forte to a four-year contract extension. The deal was struck July 16, the final day the Bears were permitted to ink the Pro Bowl running back to a long-term contract under terms of the NFL's collective bargaining agreement.

"I felt very good about where it ended up," Emery said. "I felt like it was a win-win for the Bears and for Matt. I'm very excited. I didn't see any winners or losers; I only saw the benefit to the team.

"I think Matt sees that, and we're excited to get him back on the field and to see his contributions and to help us towards our goals, which are winning championships, beating Green Bay, winning our division, all big parts of getting to that Super Bowl, winning it now and into the future."

Emery told reporters that he's excited the Forte deal got done before training camp.

"I think he's fully focused. I think he would have been fully focused one way or the other, but it's great to have him in," Emery said. "It's great that he has that security, that he has that contract, that we as a team have that security. Like I said, it's a win-win situation for both of us."

During a 33-minute press conference with reporters Tuesday, Emery also acknowledged that receiver Johnny Knox could start training camp on the physically unable to perform (PUP) list as he continues to recover from a serious back injury he sustained last December in a loss to the Seahawks.

"If he does [open camp on the PUP list] it'll be on the active PUP where we can bring him up at any time," Emery said. "We'll play that day-by-day. Johnny's certainly worked hard and deserves every consideration that we can give him to get healthy and get back on the field." [ ](http://www.phoenix.edu/campus-locations/il.html?utmsource=Story&utmmedium=instory&utmcampaign=300x100)
All 89 other players on the roster are expected to be on the field Thursday when the Bears conduct their first training camp practice. That includes star middle linebacker Brian Urlacher, who sat out the offseason program while recovering from a knee injury he suffered in last year's season finale.
"We haven't had that final physical, and we have to go out there and watch them run [Wednesday]; they'll have a running test," Emery said. "But to my knowledge, other than Johnny Knox, we don't anticipate anybody having restrictions."