While much of the focus at Halas Hall is currently on this year's draft, Bears general manager Phil Emery said Tuesday that he has high expectations for the team's top two 2012 picks.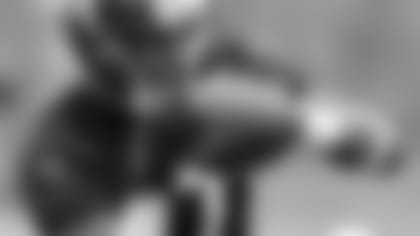 The Bears selected Alshon Jeffery with the 45th pick in the 2012 NFL Draft.
After being selected with the 19th pick in the first round, defensive end Shea McClellin was utilized primarily as a pass specialist as a rookie, registering 2.5 sacks and 14 quarterback pressures.
The Bears traded up five spots in the second round to pick receiver Alshon Jeffery, who showed flashes while battling injuries in 2012, catching 24 passes for 367 yards and three touchdowns in 10 games.
"I expect them to be better," Emery said. "I expect them to contribute at a higher level. That again is the criteria in terms of evaluating players toward winning championships: Is that player contributing at a high level and is he continuing to improve?
"That's what we're looking for out of all of our players. But if you talk about last year's draft picks, we expect them to move forward and contribute at a higher level."
Great start: New coach Marc Trestman was impressed with how sharp the players on the Bears offense looked in the team's first minicamp practice Tuesday.
"Their ability to learn a complete language, line up in the right spot and keep practice moving fluidly, I think that was apparent," Trestman said. "There wasn't a lot of stop, get-back-in-the-huddle and re-dos, and that's a real credit to our coaches and our players for being able to assimilate so much information in a short period of time.
"[But] it's not over. [On Wednesday] we're giving them a whole other game plan and they've got to learn another 100 plays and another 20 runs and come out here and do the same time. We're really trying to stretch them as much as we can, particularly offensively. I think they've shown they can handle the information and we'll see what happens [Wednesday]. [Wednesday] is a new day."
Not pleased: Emery was not happy about Evan Rodriguez's March 21 arrest in Miami Beach. The Bears fullback was charged with resisting an officer without violence and disorderly intoxication.
"Certainly Evan knows that I was disappointed," Emery said. "He was re-educated on my expectation of a Chicago Bear on and off the field and I certainly expect good things from him.
"He was in the middle of having a really good offseason. He was down training with Brandon [Marshall]. They were having some really good sessions. He made an error in a decision as far as where he was at, time and place. Fortunately there's been no case moving forward, but I was disappointed in him. He's aware of that, and we expect big things from him in terms of improving."
Tragic event: Emery and Trestman both opened their media sessions Tuesday by discussing the explosions that killed three people and injured 183 Monday at the Boston Marathon.
Emery said the energy and excitement at Halas Hall on the first day of minicamp was "tempered by the tragedy in Boston. It definitely took my heart reading about it and I just want the folks out there to know that our thoughts are with them, our condolences are with their families and best wishes to them during this healing process."
Trestman told reporters that he spoke to Bears players about the tragic event.
"The first thing and really the last thing I hit our team with was what happened in Boston," he said. "As I said to them, we don't know why sometimes bad things happen to good people and why those things happen. The only positive we can get out of it is it gives us perspective as a team and how lucky we are to be every day not just playing and coaching but all of us to just have this day and make the most out of it."