About the only way Phil Emery could have showed stronger support for Jay Cutler Wednesday is if the general manager had met with the media wearing a No. 6 Bears jersey over his suit.
"I am a Jay Cutler fan," Emery said. "I believe in what he is doing as a quarterback. If you look at the simple things, the 9-1 in the last 10 games, the (23-9) over the last three years, those stats say something, that we have a winner at a key position for our franchise. I said early in the year that I felt Jay was a franchise-level quarterback. I will continue to say that."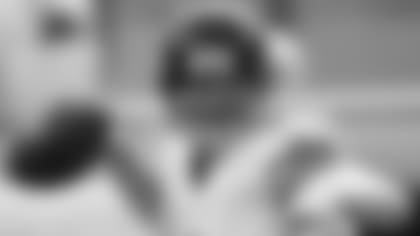 Jay Cutler's 81.7 passer rating in 46 games is tops in Bears history.
Cutler has helped lead the Bears to a 4-1 start by completing 90 of 156 passes for 1,209 yards with seven touchdowns, seven interceptions and a 78.7 passer rating. In his last two games, he has thrown for 567 yards with four TDs, one interception and a 108.4 rating in wins over the Cowboys and Jaguars.

In 46 career games with the Bears, Cutler has registered the highest passer rating (81.7) in franchise history and already ranks second with 70 TD passes behind Hall of Famer Sid Luckman.

When asked about sideline incidents Cutler has been involved in this season with offensive coordinator Mike Tice and left tackle J'Marcus Webb, Emery again supported the quarterback.

"The team is very much a family," Emery said. "The analogies are very much the same. I think family is something everyone can relate to. I know that each and every one of our families has unique people in it, unique personalities, unique interrelationships.

"I know that we have a lot of happy times in each one of our families and sometimes we have some dust-ups that we have to work through. To me the important thing with family when I consider my own family and when I look at the team is that at the end of the day are we all going in the same direction in a positive way? Do we have a passion for one another? Are we allowing each other to work toward excellence? Are we there to help one another? [Is there] true understanding for each other and do we have a commitment to moving forward?

"In each one of those ways when I look at Jay Cutler the answer is yes. He's a passionate player. He has great drive and energy. He's moving toward excellence. He does care and love his teammates, and he's a big part of what we're doing and the positive things that we're doing."