BOURBONNAIS, Ill. – Whether Phil Emery eventually signs Jay Cutler to a long-term extension remains to be seen. But the Bears general manager was impressed with the leadership and commitment the veteran quarterback displayed during the offseason.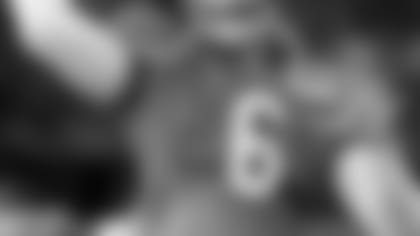 Phil Emery was impressed with the leadership and commitment Jay Cutler displayed during the offseason.
"The Jay that I've seen since I've been here has always been very focused on the practice field," Emery said Wednesday as the Bears opened training camp in Bourbonnais. "I see him involve himself more with all of our players, our younger players, taking players to the side.
"I see a guy that was fully dialed in; no one worked harder during the strength and conditioning aspect of our offseason. So I see a guy that's very committed to improving his individual skills and to interact with the players on the team and to provide leadership and help us attain our goals, which is to win championships."
Emery said Wednesday that he doesn't anticipate re-signing any players to contract extensions during the 2013 season. Cutler is among several key Bears entering the final years of their deals.
"That's fine with me," Cutler said. "I haven't really talked about any of my contracts in my career and I'm not really going to start now. We'll play it out, and however it's supposed to go, it's going to work out.
"It doesn't really matter what year you are in your contract. You've got to still go out and prove yourself. You've got to play each and every week. You've got to be consistent and you've got to sustain that the whole season. Nothing's really changed on that part."
Cutler spent the offseason learning his fourth different offense in five seasons with the Bears. He has enjoyed working with first-year head coach Marc Trestman, who has helped quarterbacks such as Steve Young, Rich Gannon and Jake Plummer improve during 17 seasons as an NFL assistant.
Trestman was hired by the Bears in January after leading the Canadian Football League's Montreal Alouettes to two Grey Cup championships in five seasons as head coach.
"He's got high expectations," Cutler said. "He's very smart. He knows offense, defense. He knows the direction he wants to go in. I think with him being in the NFL for so long and being out of the NFL [the past five years], when he got back in he got his chance and he definitely wanted to do it his way and head in a direction he thought was right."
Trestman, offensive coordinator Aaron Kromer and quarterbacks coach Matt Cavanaugh began the offseason by working with Cutler on fundamentals.
"We knew that was a starting point in doing things to try and help him grow in that area, and that wouldn't be any different than any quarterback in this league does," Trestman said.
"They all go back. They all scheme-evaluate and fundamentally evaluate their football and what they do on the football field, and we've done that with Jay and our other quarterbacks for the purpose of reassessing fundamentals and all the other things that go into it.
"It's been a day-to-day process. It's not any different than any other place. But it takes a proactive approach and a focus to do it and Jay's been all-in."