INDIANAPOLIS – It's unclear whether star middle linebacker Brian Urlacher will re-sign with the Bears in 2013. But regardless of how his contract situation plays out, general manager Phil Emery vowed Thursday that the face of the franchise will be treated with the respect he deserves.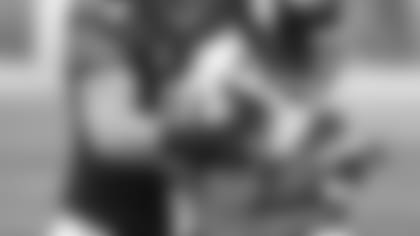 Middle linebacker Brian Urlacher has anchored the Bears defense since he arrived in 2000 as a first-round pick.
"If people are feeling that he's slighted, it certainly hasn't come from me because I have great respect for Brian as a person and as a player," Emery said at the NFL Scouting Combine. "Where this ends up, we'll work through with Brian and his agents. That will be a private matter, and when we come to a resolution, we'll let everybody know. Just know he'll never be slighted. I have too much respect for him."
Emery was a Bears area scout in 2000 when the team selected Urlacher with the ninth overall pick in the draft out of New Mexico.
"I was here when he was drafted," Emery said. "I do have a connection that way. I was in those discussions when we took Brian Urlacher. So I have tremendous respect for him and he will never be slighted as a Bear, whether he's here for an extended number of years or whether this is the end of his career as a player for the Bears. He will always be respected and never be slighted."
Urlacher has been voted to eight Pro Bowls in 13 seasons. He was named NFL defensive player of the year in 2005 and helped the Bears reach the Super Bowl in 2006 for the first time in 21 years.
Urlacher got off to a slow start in 2012 after sitting out the entire offseason program and preseason with a knee injury. He improved throughout the season and led the Bears in tackles when he suffered a hamstring injury Dec. 2 against the Seattle Seahawks that forced him to miss the final four games. The 34-year-old is due to become an unrestricted free agent in March.
"The sense of urgency is just by the calendar," Emery said. "But definitely we're going to sit down with his agents and talk and eventually talk to Brian through it and see where we all come out on this."
Playing tag: Emery declined to reveal whether the Bears intend to place a franchise tag on defensive tackle Henry Melton, a four-year veteran who is due to become an unrestricted free agent.
"We'll work through that situation," Emery said. "We'll be talking to Henry and when we come to a conclusion everybody will know."
Melton was selected to start in his first career Pro Bowl this past season when he recorded 33 tackles, six sacks, a team-high 24 quarterback pressures and two forced fumbles.
Interested in Izzy: Defensive lineman Israel Idonije is also set to become an unrestricted free agent.
Idonije has appeared in 134 career games with 50 starts in nine seasons with the Bears, recording 262 tackles, 28.5 sacks, 24 tackles-for-loss, six forced fumbles and four fumble recoveries. This past season he had 40 tackles, 7.5 sacks, 11 quarterback pressures and one forced fumble.
"He's done a number of good things and had a number of good games both outside and inside, and he's a guy we will sit down and talk to about coming back," Emery said. "He's got versatility. That is a positive thing. He has done a good job for us."
A fine line: Emery was asked how he balances satiating the fans' thirst for knowledge about the Bears' offseason plans with the need to protect information that could hinder those efforts.
"I want them to know about the process," Emery said. "I think that's important that they understand the process that we go through. There's going to be certain information that we're not going to divulge because it is a very competitive business. I think it's the most competitive business in the world, the NFL, this great league, so there's going to be certain things that we're not going to talk about in terms of how we rank players [in regard to] our team, the UFA market and the college players.
"I'll be glad to talk about the content and the quality of the overall class, but how we rank them, how we see them, that's going to remain in-house for those competitive reasons."
While working for another NFL team. Emery found out the hard way what can happen if an organization is too transparent about its needs.
"I have been in the draft room where way too much information was given out and we were jumped on a player that we liked, that we had planned on drafting," Emery said. "That player was drafted in front of us. There was just too much information that that was our player.
"We want to do everything we can to avoid that. We want to make sure that there may be one or two people who know who that guy is, but that's about it.
"We don't want to give out information so that we create, 'Hey, everybody knows that's Chicago's right tackle, that's the guy they want.' So if I'm one of the other 31 teams and I need a right tackle, I've got to get in front of Chicago if I'm going to get that guy."