Bears general manager Phil Emery discussed a handful of key issues involving the team Wednesday night on SiriusXM Radio. The following is a transcript of that interview:
How well is Jay Cutler responding to the new system and new coaching staff?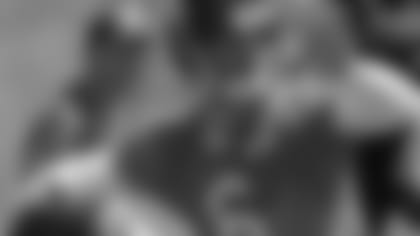 With first-year head coach Marc Trestman watching in the background, Jay Cutler throws a pass during a recent OTA practice at Halas Hall.
"Very well. It's been great day-by-day building relationships with Matt [Cavanaugh] as his position coach and with Marc [Trestman] as our head coach. I think they have developed a very good rapport. I think Jay's been very responsive, and the way he's been throwing the ball here out in OTAs is very indicative that there are good things happening."

Can you break down your draft class? How many needs that you wanted to address were you able to get done, and can you talk a little bit about first-round pick Kyle Long?

"We feel very good that we were able to help our offensive line with two players, Kyle Long and Jordan Mills from Louisiana Tech who we like a bunch both as a guard and a tackle. We brought in a couple of veterans that we like to help us at linebacker and to be our starters coming in through these OTAs and into training camp and into the season with D.J. Williams and James Anderson, who both have been really good in terms of mixing with the players that we have and showing leadership in their own right. With the addition of the two rookies that we brought in in Jon Bostic and Khaseem Greene, we feel very good that we've added quality players at that position and we can continue to grow there.

"We brought in Cornelius Washington to help our defensive end rotation and [I'm] very optimistic that with his skill set he can help our pass rush and provide a lot of competition for that fourth spot on our roster at defensive end and possibly over time be a guy that can play a little bit inside.

"[I'm] extremely excited about Marquess Wilson and what he brings to the tackle in terms of he's a vertical player. He doesn't run what I would say an outstanding 40-time, but he plays very fast. He's an unusual guy in that he's a long-strider but he can really come to balance, he can really bend and break in and out of his cuts very well for a person that has the kind of length that he has. He's a high-point catcher with a lot of catch range. I feel very good about the entire class."

Is the door closed on Brian Urlacher's return?

"Brian was a great player and still is a great player. I have the utmost respect for Brian. As I have told people before, I have far too many gray hairs to never say never. But we've made an investment in terms of bringing a couple key veterans in and drafting a couple rookies, so I would say that is less likely to happen than more likely."

Is it disconcerting that Gabe Carimi is not participating in OTAs or is it OK that he's opted to train on his own in Arizona?

"This is a voluntary situation and every player has to make his own decisions, and Gabe has made a decision that he wants to stay in Arizona and train. We respect that and he'll be welcomed with open arms when he comes back."