In a question-and-answer session with fans on ChicagoBears.com Tuesday, general manager Phil Emery shared his thoughts on a variety of different issues impacting the team.
Emery said that all cuts "are extremely hard" when establishing the 53-man roster, but "veteran cuts are the hardest because they've established relationships with members of the team and staff."
"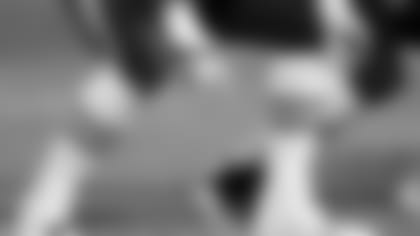 Eben Britton appeared in 13 games with four starts with the Bears last season
One of the hardest was Eben Britton because he positively contributed last year and he had developed deep bonds with the other members of the offensive line and team," Emery said.
Asked about veteran linebacker Lance Briggs being excused from practice Monday so he could open a restaurant in California, Emery said: "Lance Briggs was excused for personal reasons. As any employer would do, we will always respect the privacy of our players, whether that concerns absence from work, injuries or medical history, or contract status."
Emery conceded that while Jon Bostic's "overall performance in 2013 was inconsistent as it normally is with a rookie player," the second-year linebacker is steadily improving.
"Jon buys in fully to our system," Emery said. "He's developed a great working relationship with linebackers coach Reggie Herring. He's learning to be more patient with his reads and we saw the result of that in several positive plays during the preseason. From the coaching tape, he had only one error during the Seattle game versus a play-action pass. Other than that, he played very physical, made several plays and we're pleased with the progress that he's making."
Emery was unable to say whether safety Chris Conte would be able to start Sunday's season opener against the Bills as he continues to recover from a concussion. But the general manager praised the fourth-year safety who missed the entire offseason program following shoulder surgery.
"Chris has worked extremely hard," Emery said. "He looks the best that I've seen him in terms of his body and his athleticism since he's been in the league. However he's able to contribute this Sunday will be a benefit to the Bears."
One fan wanted to know why running back Jordan Lynch, a Heisman Trophy finalist as Northern Illinois' quarterback last year, did not earn a spot on the 53-man roster or practice squad.
"We kept four running backs," Emery said. "They all offer unique talents. A big part of keeping that number of running backs was their ability to contribute on special teams. Jordan was raw to that task. He has great effort in that area. [But] the assignments and execution of those assignments were new to him.
"As far as the practice squad is concerned, we again have to look at the fact that we have four running backs and a fullback on our 53-man roster."
Emery said that he was "very disappointed" about waiving receiver/return specialist Chris Williams.
"Roster decisions are always about the best players for our team," Emery said. "Unfortunately, Chris wasn't able to show us all the skills that we saw from his CFL tape during live NFL action."
Some viewed Williams as a possible heir apparent to Devin Hester, a record-setting return specialist who joined the Falcons after the Bears declined to sign him. Emery said the team did not bring Hester back because it chose to allocate its funds to revamp its defense.
"Going into the offseason, we were very focused in on helping our defense," Emery said. "We liked the players that we were able to sign, and each signing results in a financial commitment which hits up against the salary cap and your ability to sign other players.
"To meet our goals to improve our defense, which will ultimately improve our special teams, we had to make a decision in terms of where our funds were going to go, and we were not going to be able to meet Devin's financial expectations."