NFL.com analyst Heath Evans has selected new Bears inside linebacker Danny Trevathan as the NFL free agent who will provide the most bang for the buck.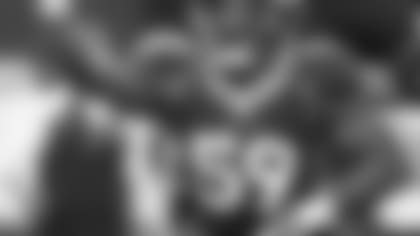 Danny Trevathan joins the Bears after winning the Super Bowl with the Broncos.
"Danny Trevathan is a fast, somewhat-undersized linebacker, and he'll play a huge factor for the Bears against the three other teams in the NFC North," Evans wrote.

Trevathan signed with the Bears March 9, the first day of free agency. He spent his first four seasons with the Broncos, recording 282 tackles, three sacks, 19 passes defensed, five interceptions, three forced fumbles and one fumble recovery.

Trevathan was a key member of Denver's Super Bowl-winning defense last year. Playing in a 3-4 scheme for the first time in his career, he registered a team-leading 109 tackles for a unit that ranked first in the NFL in total yards and passing yards.

Trevathan is a three-down linebacker who possesses the speed and athleticism to cover tight ends. The 6-1, 240-pounder joins a Bears defense that improved from 30th in 2014 to 14th in total yards last season but failed to produce many impact plays.

"Trevathan is a quick speedster who will do well against Aaron Rodgers and the Packers, given what they like to do in the passing game with the tight ends (when they're healthy)," Evans wrote. "When looking at the Lions under offensive coordinator Jim Bob Cooter, everything in the passing game is short and focused on getting the ball out of Matt Stafford's hands as fast as possible. Then in Minnesota, everything Norv Turner is trying to do with Teddy Bridgewater, it's still those fast, short passes.

"For the money (four years, $24.5 million) and with six divisional games every year, I think it's a good matchup."