Former Bears defensive lineman Bryan Robinson reportedly was found dead Saturday night in a Milwaukee motel room. He was 41.
Robinson spent six of his 14 NFL seasons with the Bears from 1998-2003, appearing in 90 games with 82 starts and recording 16.5 sacks. He also played for the Rams (1997), Dolphins (2004), Bengals (2005-07) and Cardinals (2008-10).
Robinson started all 16 games in four of his six seasons with the Bears, playing both end and tackle. The signature play of his career came on Nov. 7, 1999 when he preserved a 14-13 win over the Packers at Lambeau Field by blocking Ryan Longwell's 28-yard field goal attempt as time expired. The Bears had dedicated the game to legendary Hall of Famer Walter Payton, who had passed away six days earlier of bile duct cancer at age 45.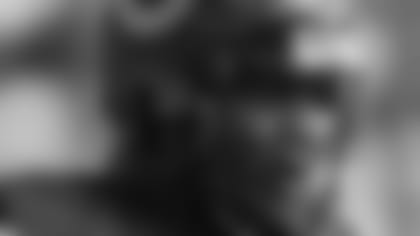 Bryan Robinson entered the NFL in 1997 as an undrafted free agent with the Rams and spent six seasons with the Bears from 1998-2003.


"We are saddened to hear of the loss of Bryan Robinson," the Bears said in a statement Monday. "He will be remembered for the determination and work ethic he displayed on the field over his six years in Chicago. The Bears and our fans will always be indebted to him for his game-saving blocked field goal in Green Bay six days after Walter Payton's passing. Our prayers are with Bryan and his family."
Several of Robinson's former teammates reacted to the news Monday at a Bears Alumni golf outing in Kenosha, Wis.
"I was shocked," said former defensive end Alex Brown. "That's somebody I played with, a teammate, and you realize that he was 41 years old. I'm 37, so it hits home. There are some guys leaving this world a lot sooner than expected. You just want to make sure that you take every day and you live it to the fullest because you just never know when we're going to leave here."
"It's so crazy," added former receiver Marcus Robinson. "He was an inspiration in the locker room. He was always having fun. I just talked to him last summer around this time and to hear that news today is awful."
"Definitely it's sad," said former tackle James "Big Cat" Williams. "You never want to hear about a guy that young passing away. 'B-Rob' was always a good guy as far as I was concerned and had himself a nice long career."
As a Rams rookie in 1997, veterans purposely gave Robinson wrong information so he would make mistakes in practice. After that experience, he vowed to always help younger teammates, something he did with the Bears.
"I'd almost call him a mentor on the field, just teaching me how to be an NFL player, how to be a professional," Brown said. "There's always going to be somebody younger, quicker and faster who's probably getting paid a little less who can take your job, so you've got to make sure you're on your game and stay on that game as long as you can because the NFL's not going to last for long. You've got to give it everything you've got so when you're done and you look back there's nothing to regret."
Robinson was an intense player who possessed a fun-loving personality.
"B-Rob was definitely an emotional guy," Williams said. "He tried to lead by example, but he also had that quirky side to him that allowed him on a day when everybody was down to put everybody in a silly mood and get them to play football again. That's what you look for out of players, guys who can find a way to take themselves to the next level and not only themselves but bring a couple other guys with them, and B-Rob was good at that."
"I know he was a leader in the locker room," Robinson said. "He always kept guys enthused at practice. He always kept practice going and made it fun. He was a real mellow guy. On the field he played well. He was just a nice guy all around."
Other former Bears teammates offered their condolences on social media, including Lance Briggs, Tony Parrish, Todd McMillon, Warrick Holdman, James Allen, Walt Harris, Cameron Worrell, Scott Dragos, Alonzo Mayes, Reggie Austin, Macey Brooks, Kaseem Sinceno and Ray Austin.