Former Bears running back Rashaan Salaam has passed away at the age of 42.
Salaam was reportedly found dead Monday night in a park in Boulder, Colorado, where he had starred for the University of Colorado. Authorities said there were no signs of foul play.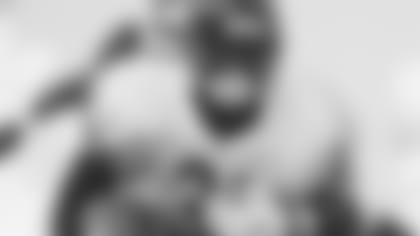 The Bears selected Salaam with the 21st pick in the first round of the 1995 NFL Draft.


The Bears selected Salaam with the 21st pick in the first round of the 1995 NFL Draft. He set a team rookie record that has since been broken by rushing for 1,074 yards and 10 touchdowns on 296 carries, becoming the youngest 1,000-yard rusher in league history.
But Salaam was released after only three seasons with the Bears, primarily because he was plagued by injuries and fumbles. He appeared in 31 games with 20 starts, rushing for 1,682 yards and 13 touchdowns on 470 carries.
Salaam made a brief comeback with the Browns in 1999, but had only one carry for two yards in two games. He later spent time with the Packers and 49ers without appearing in a regular-season game and also played briefly for the XFL's Memphis Maniax and the CFL's Toronto Argonauts.
"It's heartbreaking," said former Bears running back Raymont Harris, Salaam's teammate for all three of Salaam's seasons in Chicago. "Immediately it just kind of brought me back to our times in the '90s. He was a good dude. It's just a really sad heartbreaking thing."
Harris entered the NFL only one year before Salaam, but Harris was three years older.
"I remember him being a real young guy," Harris said. "We had more of a big brother/little brother relationship. He was a cool dude and he was supremely talented. I just remember him being a pleasant person to be around and he could definitely make you laugh."
Salaam was ultra-productive at Colorado, winning the Heisman Trophy as a junior in 1994 after rushing for 2,055 yards and 24 TDs and leading the Buffaloes to an 11-1 record and No. 3 finish in the Associated Press poll.
"The Buff Family has lost an outstanding young man and a great Buff today," athletic director Rick George said Tuesday. "We are heartbroken for Rashaan and his family, and our thoughts and prayers are with them at this very difficult time."