It's virtually impossible to go on Twitter or Facebook and not see scores of people doing the "Ice Bucket Challenge" to raise money and awareness in the fight against ALS.
But for former Bears special-teams standout Tim Shaw, the cause is extremely personal. On Tuesday, the 30-year-old revealed that he has ALS, which is also known as Lou Gehrig's Disease.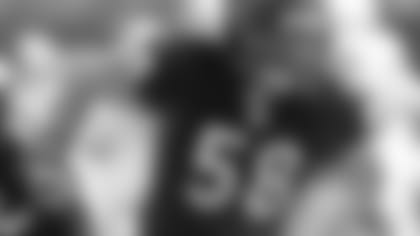 Tim Shaw
In a video posted on the Tennessee Titans website, Shaw says: "A year ago I was playing NFL football. I've recently been diagnosed with ALS. I'm here today to stand up and fight with all of you against this disease. I want to challenge the Tennessee Titans organization, coach [James] Franklin and the Penn State football team and my Clarenceville community [in Livonia, Mich.]. Let's do this."
Shaw played one of his six NFL seasons with the Bears in 2009. Signed after linebackers Brian Urlacher and Pisa Tinoisamoa were injured in the season opener, Shaw appeared in the final 15 games and set a franchise single-season record that still stands with 30 special-teams tackles.
Shaw capped the campaign with a super-human effort against the Lions in Detroit, recording eight special-teams tackles while also forcing and recovering a fumble on a kickoff return. The performance came against his hometown team in front of 40 friends and relatives who were there to cheer him on.
"I'm more than blessed," Shaw said after the game. "It's been an amazing year just to see that you can take a guy like me on the street unemployed to making plays in a game. I'm just so thankful. There's been a lot of hard work, a lot of tough times and things like that. But it's the NFL. There are ups and downs. You've got to find your niche, earn your spot and take advantage of opportunities."
In addition to the Bears, Shaw also played for the Panthers (2007), Jaguars (2008) and Titans (2009-12). He announced his retirement from the NFL after getting released by Tennessee last year.