Former Bears defensive end Ed Sprinkle, who was once described by George Halas as "the greatest pass rusher I've ever seen," passed away Monday at the age of 90.
A fierce competitor, Sprinkle played his entire 12-year NFL career with the Bears from 1944-55. He was voted to four Pro Bowls and was named to the NFL's All-Decade Team for the 1940s.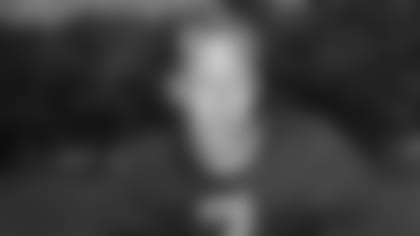 Ed Sprinkle
"Ed Sprinkle wore the No. 7 with distinction as did George Halas before him," said Bears chairman George H. McCaskey. "He was a real rough-and-tumble guy who made a name for himself around the league with just how competitive a player he was.
"He was also a great Bears alum who was very active and a frequent attendee at our annual homecoming events. It's just a sad day at the Bears. He will be missed."
Sprinkle helped lead the Bears to the 1946 NFL Championship. In the title game against the New York Giants, he pressured quarterback Frank Filchock into an ill-advised pass that was returned 19 yards for a touchdown by Dante Magnani, giving the Bears a 14-0 lead en route to a 24-14 win.
Sprinkle was labeled "the meanest man in football" in a 1950 article in Collier's Weekly. But the Bears defensive end always stressed that he played within the rules.
"I never really played dirty football in my life," Sprinkle once said in response to the article. "But I'd knock the hell out of a guy if I got the chance."
Sprinkle was born on Sept. 3, 1923 in Bradshaw, Texas. He played for Hardin-Simmons University in Abilene as well as the United States Naval Academy. In joining the Bears, Sprinkle followed in the footsteps of fellow Abilene product Clyde "Bulldog" Turner, a Hall of Fame center/linebacker who played 13 seasons for the Monsters of the Midway from 1940-52.
Sprinkle also lined up at guard and end on offense early in his career, catching 32 passes for 451 yards and seven touchdowns, before focusing solely on the defensive end position.