BLOOMINGTON, Minn. – According to one of his former players at the University of Oregon, new Bears offensive coordinator Mark Helfrich is an excellent coach and an even better person.
"It was a pleasure working with that man," Philadelphia Eagles running back and return specialist Kenjon Barner told ChicagoBears.com during a media session at Super Bowl LII. "I have a lot of respect for coach Helfrich, a lot of love for that man."
During Barner's four seasons at Oregon from 2009-12, Helfrich served as offensive coordinator under head coach Chip Kelly. The Ducks were known for their prolific offense during that span, averaging 44.7 points, 283.4 rushing yards and 500.7 total yards per game.
"What Bears fans and players are getting in coach Helfrich," Barner said, "is a guy who can reach players on more than a football level, a guy who is going to help [quarterback Mitchell] Trubisky develop and give him some things that I think are going to put him at ease within that system, a guy who has a unique way of play-calling and coming up with the things. So I think everything is going to look all right for the Bears this year."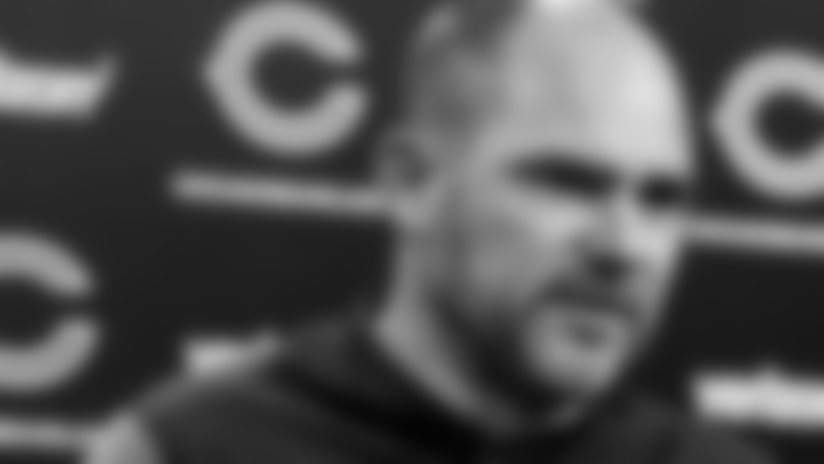 Bears offensive coordinator Mark Helfrich during his introductory press conference.


During Barner's four seasons at Oregon, the Ducks played in four BCS bowl games and won three Pac-12 Conference championships. As a senior in 2012, he rushed for 1,767 yards and 21 touchdowns on 278 carries, fueling an explosive offense that averaged 49.6 points, 315.2 rushing yards and 537.4 total yards per game.
Barner was selected by the Carolina Panthers in the sixth round of the 2013 draft. After playing sparingly as a rookie, he was traded to the Eagles in 2014, reuniting with Kelly. But the running back failed to make the 53-man roster and spent part of the year on Philadelphia's practice squad.
Over the past three seasons, Barner has appeared in 37 games with the Eagles, rushing for 310 yards and three touchdowns on 71 carries, catching 19 passes for 120 yards, averaging 8.6 yards on 30 punt returns and averaging 24.1 yards on 20 kickoff returns.
Helfrich, meanwhile, succeeded Kelly as Oregon's head coach, compiling a 37-16 record in four seasons from 2013-16, including a 24-12 mark in the Pac-12.
In 2014, Helfrich guided the Ducks to a school-record 13 wins, a Pac-12 championship, a Rose Bowl victory in the inaugural College Football Playoff semifinal and an appearance in the CFP national championship game. As a result, Helfrich was a finalist for the Eddie Robinson and Maxwell Football Club Coach of the Year awards.
"His best attribute as a coach is being able to reach players," Barner said. "And I think that's the key for any coach—being able to reach players and really get his players to play for him."
Although they haven't worked together since 2012, Barner will always appreciate the impact that Helfrich had on him at Oregon as both a player and person.
"He helped me grow up and mature, dealing with different situations that as a college kid you really don't understand how to deal with," Barner said. "Coach Helfrich really helped me a lot. He helped me as a man and as a father and to become a better son and better brother. Coach Helfrich is a great guy and the Bears are lucky to have him."