After signing a one-year contract with the Bears last week, safety M.D. Jennings stood in the Halas Hall lobby, surrounded by plaques of his new team's 27 Hall of Famers.
It was probably the last place Jennings expected to be last December when he helped the rival Packers beat the Bears in a winner-take-all showdown for the NFC North title at Soldier Field.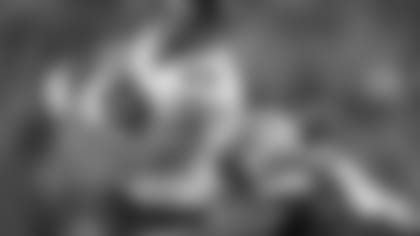 Safety M.D. Jennings tackles Bears running back Matt Forte last Nov. 4 in Green Bay.
"It's strange, I have to admit it," Jennings said of joining the Bears after playing his first three NFL seasons in Green Bay. "But once I put the Chicago uniform on, I'm all in. It's all about being loyal to the team you're out there representing."
Jennings entered the NFL with the Packers in 2011 as an undrafted free agent from Arkansas State. After playing primarily on special teams as a rookie, he started the final 10 games at free safety in 2012 in place of the injured Charles Woodson.
Jennings started all 16 games last season, recording a career-high 68 tackles with four tackles-for-loss, one pass breakup, one sack and one fumble recovery.
The 6-foot, 187-pounder was due to become a restricted free agent, but the Packers declined to make him a qualifying offer, enabling him to become an unrestricted free agent. Jennings admits that he was disappointed that he was not tendered by the Packers.
"It's a big chip on your shoulder," he said. "You use it as motivation. When you're out there working out, running sprints or whatnot, you think about things like that and it just drives you."
While the snub provides motivation, Jennings doesn't intend to circle the dates of the two Bears-Packers games on his calendar when the NFL schedule is released in April.
"I just have to take it one game at a time," Jennings said. "When I play against those guys, I just have to treat them like any other opponent."
The Bears' depth chart at safety appears to be wide open. They bolstered the position by signing Jennings and Ryan Mundy, and it doesn't appear that free agents Major Wright, Craig Steltz and Anthony Walters will return.
Asked what appealed to him about joining the Bears, Jennings said: "I feel like I have a chance to compete for a starting spot, and if I'm not the starter contribute however the coaches need me to. I'm just thankful for the opportunity to play football. I'm just excited about the opportunity here to make the most of it."
If that means contributing primarily on special teams, that's just fine with Jennings.
"I've played a lot of special teams," said Jennings, who recorded 20 special-teams tackles in 47 games with the Packers. "I played special teams every year I was in Green Bay. I'm just here to do whatever the coaches need me to do. If I've got to go out there and play special teams every game, that's what I'll do."