INDIANAPOLIS – Before joining the Bears last year, running back Jeremy Langford starred at Michigan State, rushing for 1,422 yards and 18 touchdowns in 2013 and 1,522 yards and 22 TDs in 2014.
Selected in the fourth round of last year's NFL Draft, Langford left East Lansing for Chicago. But according to some of his former Spartans teammates at this week's NFL Combine, he was clearly not forgotten on campus.
"I watched him a lot," said center Jack Allen. "When we were in the training room on Sunday after a game before we were getting ready to go into meetings, we usually had [NFL] games on and everybody was rooting for Jeremy."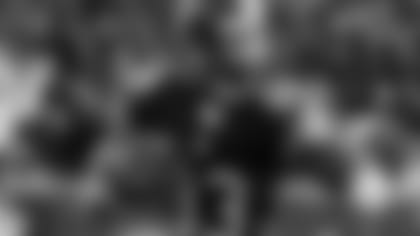 Before joining the Bears last year, running back Jeremy Langford starred at Michigan State.


Allen was a four-year starter and two-time first-team All-American at Michigan State. The 6-2, 296-pounder is considered a tough, tenacious and versatile lineman who has been compared to former Bears center Olin Kreutz. ESPN's Mel Kiper Jr. predicts that Allen will be selected by the Philadelphia Eagles with the 13th pick in the draft.
A Chicago area native, Allen attended Hinsdale Central High School, where he won a state wrestling championship as a senior. His great uncle, Bob Konovsky, was a guard who played three seasons with the Chicago Cardinals and was briefly with the Bears in 1960.
Asked about the possibility of playing with Langford again on the Bears, Allen said: "It would be awesome. That's the kind of guy that you want to block for. He's a great guy off the field and he runs hard. He's a tough guy. He can take some hits and he brings it."
Langford arrived at Michigan State as a running back, but was switched to cornerback and receiver before returning to his natural position in 2013. Interestingly, his first touchdown for the Spartans came when he was playing cornerback as a freshman in 2011 and he returned a fumble 37 yards against Florida Atlantic.
Langford rushed for at least 100 yards in 18 games at Michigan State, the third most in school history, and closed his career by topping the 100-yard mark in his last 15 Big Ten games.
The running back's success continued as a Bears rookie last year when he rushed for 537 yards and a team-high six touchdowns on 148 carries while also catching 22 passes for 279 yards and one TD. His 109 receiving yards in a Week 10 win over the Rams were the most by a rookie in Bears history and his 83-yard TD on a screen pass in that game was the team's second longest play from scrimmage of the season.
When starter Matt Forte was sidelined with an injury last November, Langford helped lead the Bears to back-by-back wins by generating 142 yards from scrimmage against the Chargers and 182 yards versus the Rams while scoring three touchdowns.
The Bears' faith in Langford and 2014 fourth-round pick Ka'Deem Carey was a major factor in their decision not to offer Forte a contract.
Like Allen, former Michigan State receiver Aaron Burbridge would welcome the opportunity to rejoin Langford with the Bears.
"I would love being teammates with him again," Burbridge said. "He's a great person and Chicago is a great club to be with. I've followed him ever since he got drafted by the Bears. That was one of my good friends while he was at Michigan State. I'm happy about him doing well."
Burbridge was named Big Ten receiver of the year last season as a senior when he caught 85 passes for 1,258 yards and seven touchdowns. The 6-1, 208-pounder sees Langford as a complete back who possesses speed and power.
"I felt like the way he hit the hole was his best strength, also his blocking," Burbridge said. "People don't really see his blocking, but that's a critical thing that he does."
Former Michigan State tackle Jack Conklin was thrilled to see Langford thrive as a Bears rookie.
"I love Jeremy. He's a great guy," Conklin said. "He was a great Michigan State running back and to see him take off and start doing some stuff for the Bears, it was great. He's such a good guy, it's great to see him doing well."
Conklin arrived at Michigan State as a walk-on before earning a scholarship in January 2013. The 6-6, 325-pounder was a three-year starter at left tackle for the Spartans and was voted first-team All-American last year as a junior.
Conklin improved his draft stock with an impressive performance in Combine drills, with NFL.com's Bucky Brooks selecting him as one of three "winners" on Friday.
"The former walk-on surprised scouts with his athleticism, balance and body control," Brooks wrote. "He showcased exceptional agility and movement skills in bag drills, while also displaying light feet and swivel hips in change-of-direction drills. With Conklin also posting a 5.00-second time in the 40-yard dash and showing short-area explosiveness in the agility drills, Friday was a fine day for the Michigan State product."