With the rebuilding Bears acquiring a slew of new players this offseason, introductions no doubt have been necessary in most position rooms at Halas Hall.
But that hasn't been the case with the outside linebackers, a group that features five returning veterans in Pernell McPhee, Lamarr Houston, Willie Young, Leonard Floyd and Sam Acho. The position is clearly deeper and more experienced than any other on the roster.
"We've got a wide range of guys who can play this position," Young said. "And when you're able to do that, when you're that versatile at one position alone, [opponents] can't just prepare for who [they're] going to see that week. You don't know who is going to be where, who is going to be on which side."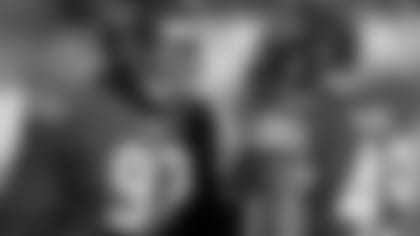 Outside linebackers Willie Young and Sam Acho after a play during the 2016 season.


Further complicating matters for opposing offenses is that the Bears outside linebackers possess different skill sets and range in weight from 240 pounds (Floyd) to 274 (Houston).
"We've got a power guy, a speed guy, a finesse guy," Young said. "We have a guy who can run through your face, guys who can get to the quarterback."
Young led the Bears with 7.5 sacks last year, though he recorded six of those in the first six games and didn't make much of an impact over the second half of the season.
Floyd had an impressive rookie campaign after the Bears traded up two spots to select him with the ninth pick in last year's draft. The Georgia product recorded seven sacks, recovered a fumble for a touchdown following a strip/sack of Packers quarterback Aaron Rodgers and produced a safety with a sack of the 49ers' Blaine Gabbert.
Floyd was limited to 12 games, however. He was plagued by nagging injuries in training camp and the preseason and then suffered two concussions in a five-week span late in the year. Heading into his second season, expectations are high for the 2016 first-round pick.
Asked what he expects Floyd will do this year, Young said: "Bring the pain, baby, and I have no doubt in my mind he's going to bring it. He always has. He had an OK [rookie] year. But what I've seen from that young man is pretty nice. I'm liking where he's at right now."
Young was impressed with Floyd's mentality in his first NFL season.
"When you come in in his position as a rookie and you're taking these snaps versus Pro Bowlers week-in and week-out and not batting an eye, that's the kind of guy that you want to see come in as a rookie," Young said.
"The sky's the limit for him. He just has to continue to want to learn. He has to continue to want to get better at his craft and continue to take ownership in everything that he does every step of the way."
In addition to Floyd's continued development, another huge key at the outside linebacker position this season will be McPhee's health. The seven-year veteran missed the first six games last year while recovering from knee surgery and then suffered a shoulder injury in a Week 16 loss to the Redskins that ended his season.
McPhee expressed optimism when he spoke to reporters following Tuesday's OTA practice.
"I still feel great," he said. "I'm moving around pretty good, as I watch myself on film. I feel lighter than I was a couple of weeks ago when you saw me. I'm still blessed, still feeling great."
McPhee expects big things from himself and his fellow outside linebackers. Asked to describe their mindset, he said: "Dominate, destroy every opponent that we face. Just showing the world why they actually got these guys in the room: Me, Leonard, Willie, Lamarr, Sam. Just dominate in the NFL. That's my focus. That's what I want us to do and that's what I think we're going to do."